prof. Ing. Ján Szolgay, PhD.
Vice-rector for Science, Research and PhD Degree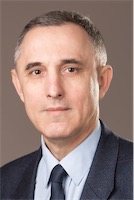 Ján Szolgayreceived his university degree at the Slovak University of Technology in Bratislava in the field of Water Resources Management and Water Structures. In 1978, he attended a higher postgraduate UNESCO International Hydrology Course at the Lomonosov University in Moscow. From 1976 to 1990, he worked for the Slovak Academy of Sciences, Institute of Hydrology, where he gained the CSc. degree in the field of Hydrology in 1982. Since 1991, he has joined the STU Faculty of Civil Engineering. He became an associate professor in the field of Hydrology and Water Resources Management in 1992, and a professor in the same field in 1992. He was the Head of the Department of the Country Water Resources Management. He was consecutively appointed a vice-Dean for science and foreign relations.
He is involved in the Bachelor and Master degrees education and training in the study programmes of Structures for Building and Protecting the Environment, Water Structures and Water Resources Management and Civil Engineering at the STU Faculty of Civil Engineering. He has supervised 20 PhD students of the study programmes Water Engineering and Landscaping.
His scientific activities are focused on the assessment of the environmental and climate changes impact on the hydrology and flood regimes, regional frequency analysis of floods, and methods of the water management system simulations. He was involved in four EU Framework Programs projects, and several VEGA and APVV projects. He was a member of Editorial Boards in the journals of Hydrology and Earth Systems Sciences, Hydrology and Hydrological Sciences. He is a member of Editorial Boards of the CC Journal of River Basin Management, Journal of Hydrology and Hydraulics and Water Resources Management. He is a National Correspondent of the International Hydrological Sciences Association (IAHS), a Vice-Chair of the Slovak Hydrology Committee for the UNESCO International Hydrological Program, and a Vice-Chair of the Slovak International Union of Geodesy and Geophysics Committee.
As a team leader, he won the Slovak Academy of Sciences Award for the scientific results attained in cooperation of the SAS with Universities (2004); as a team member, he was awarded by the Minister of Environment for extraordinary results and long-term contribution to the environmental care and environmental development (2005). He was the STU Scientist of the Year 2008. He is a co-winner of the Nobel Peace Prize for his activity in the IPCC Intergovernmental Panel on Climate Change (2007), a winner of the Henry Darcy Medal of the European Geophysical Union (2011) and of the Dionýz Štúr SAV Honorary Plaque for the Natural Science results in 2013.
---
Address:
Rektorát
Vazovova 5
812 43 Bratislava 1
Tel.:
+421 911 467 421

Fax:
+421 2 5249 9384
E-mail:
jan.szolgay@stuba.sk