prof. Ing. František Uherek, PhD.
Vice-rector for Cooperation with Practice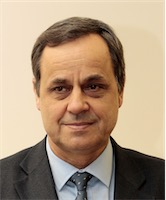 František Uherek has been with the Slovak University of Technology in Bratislava since 1980. After graduating from the Secondary Technical School of Electrical Engineering (today's Secondary Technical School of Electrical Engineering of K. Adler in Bratislava), he completed his university studies at the STU Faculty of Electrical Engineering and Information Technology (FEI) in the field of Microelectronics in 1979. He became an Associate Professor (1994) and Professor (2003) in Electronics at the STU Faculty of Electrical Engineering and Information Technology. For many years, he has been a Deputy Director of the Department of Electronics and Photonics of the STU FEI. From 2012 to 2019, he was the Chair of the STU FEI Academic Senate, and from 2016 to 2019, a member of the STU Academic Senate.
His research and pedagogical activities are devoted to the fields of optoelectronics, photonics, optical communication and sensor systems, lasers and laser technologies. He is involved in expanding and disseminating the latest scientific knowledge in electronics, optoelectronics and laser technology in Slovakia. He has significantly contributed to the preparation and implementation of building an International Laser Centre in Bratislava. He was a member of program committees of the ECS, ASDAM, LALS'98, WQACO 99, Laser Physics 2002, Optical Communications, ECONOS and ADEPT international conferences.
He has led several domestic and international research and development projects (two ASF EU, four VEGA and four Applied Research projects). He is a co-researcher in several APVV projects and nine foreign projects, including one 5RP, two 6RP, two 7RP, two H2020 and four bilateral ones. He has published more than 150 scientific papers in the foreign and domestic journals and scientific conference proceedings with more than 300 citations (h = 8, without self-citations). He is a co-author of two patents and one patent application.
He is a member of the Editorial Board of the Optics (Elsevier) international journal, the Science and Military journal, and the Zvárač (Welder, SK) journal. He has been a member of the SPIE/CS National Committee since 1996; a member of the IEEE since 1999; a member of the EOS since 2001, and a Vice-Chair of the CSS Executive Committee since 2017.
---
Address:
Rektorát
Vazovova 5
812 43 Bratislava 1
Tel.:
+421 940 510 080

Fax:
+421 2 5249 9384
E-mail:
frantisek.uherek@stuba.sk