prof. Ing. Miroslav Fikar, DrSc.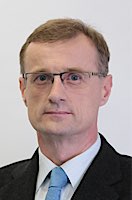 Miroslav Fikar has been with the Slovak University of Technology in Bratislava since 1989.
After graduating from the secondary school of Jur Hronec in Bratislava, Novohradská 1 St., and from the STU Faculty of Chemical and Food Technology with master degree in Automated Control Systems, he has worked for STU as an assistant and senior assistant (since1994), associate professor (since 2000) and professor (since 2007).
In 2009, he earned the degree of DrSc. in the field of Optimum Control of Restricted Processes.
His research and teaching activities are professionally dedicated to automation, process control, process modeling and simulation, with focus on the optimum operation and control.
He is a co-author of two monographs issued in the Springer Publishing House, 40 CC; publications in journals (75% with foreign co-authors), 135; publications (Scopus) and more than 700 citations, H index 12.
He participated in long-term research stays at the universities in Germany, France, Denmark and Switzerland.
He won a scholarship from the German Alexander Humboldt Foundation. He can communicate fluently in four world languages.
He has been a principle researcher in four VEGA Projects, two APVV Projects, an EU FP7 Project, an H2020 Project Call and several bilateral projects.
He has built and guaranteed three study degrees in the field of Automation at the STU Faculty of Chemical and Food Technology; he is a guarantor in the field of the habilitation and inauguration procedures.
In the latest complex accreditation, the field of Automation at the Faculty of Chemical and Food Technology ranged within the top three in the research field 16 (Informatics, Automation and Telecommunications) in Slovakia, winning the highest grade A.
In the years 2003-2018, he was Head of the Department, and in 2006-2019 Director of the Institute of Information Engineering, Automation and Mathematics at the STU Faculty of Chemical and Food Technology.

---
Address:
Vazovova 5
812 43 Bratislava 1
Phone:
+421 2 5249 7196
+421 918 669 118
Fax:
+421 2 5249 9384
E-mail:
rector@stuba.sk