General information
Lecture Room Address: Vazovova street no. 5, lecture room no. UD 104. It is located in the main building (Rectorate) of the Slovak University of Technology (STU) (see the map below).

Parking: recommendations in welcome guide are valid - parking around Vazovova street is free on not reserved (crossed) places. During the weekend there are usually enough free parking lots around, if not there is a paid car-park on Vazovova and on Školska street 2€/hour. If you intend to stay more then 5 hours ask explcitly after arrival the whole day parking which is 20€/day on Vazovova and 10€/day on Skolska. (Skolska street is behind the Saffron hotel some 400 meters far away from Vazovova). Those staying in the hotel Akademik may park inside the STU building (see photos) or for 8€/day in Saffron hotel. Warning: when parking on free public parking place you have to leave 1,5 meter of footpath (measured to the closest obstacle=building). Parking garages in Bratislava may be found on map on https://sk.parkopedia.com/parking/locations/vazovova_bratislava_slovensko_u2s1vw1z1n7/. If you would like to park elsewhere please note that in the very city center is a paid zone with parking houses and no free parking on streets from 8h - 16h. Most parking places are parking machines, or you may and need to buy a ticket or send SMS. Wrongly parking cars are or wheel clamped (fined with 50€) or towed away (99€ and more).

Check-in in the hotel Akademik:

Address: hotel Akademik, Vazovova street 1, 811 07 Bratislava

Contact in English: Ms. Trochtova (please mention your participation in the MBA program hosted by STU and you will get special price of 36,8€ for single room single night) Tel.:+421 918 664 010, E-mail: elena.trochtova@stuba.sk, www.stuba.sk/new/generate_page.php?page_id=3671 They have a non-stop service, however if you arrive late use the bell (do not knock). The currency in Slovakia is Euro.
1. How to reach the lecture room?
Lecture room UD 104 at Vazovova 5 - STU is on the ground floor. There will be signs from the main entrance of the Rectorate of STU at Vazovova 5.
2. Should participants go directly to the lecture room or to the hotel?
Go to the lecture room. Lectures will start at 9.00 at UD 104. Please be on time.
3. Arrival by train or by public transport
How can I buy a ticket? Can I buy it by driver? How much does it cost?
Please look at the students welcome guide for the map of stops of public transport around. From Bratislava Main Train Station (Hlavna stanica)or the Main Bratislava bus station (Mlynske Nivy) you will need to buy one ticket (time ticket valid for 15 minutes) for 70 cents at the tobacconist's or from automatic ticket machines which are around of most stops (not by the driver). In case you need to get to Vazovova from Bratislava airport you will need a time-ticket for 30 minutes (90 cents) or 60 minutes (1,2€). It is possible to change buses, trams or trolleybuses with one ticket within the time interval. If you use public transport regularly you may consider to buy one or more day ticket (starting from 3,5€) . Here is the site with information about tickets.
4. Organisational matters such as wireless, internet connection, lunch, the usage of the facilities
The wireless internet connection is available in the classroom UD 104. You may use Eduroam network or other network for which you will get a password. Please bring your own laptop/tablet. The voltage here is 220 V and connector to a plug is very similar to German one so you will not need an adapter. Lunches are not organised by STU. During the break from 13.00 to 14.00 students may go to the STU canteen in the same building or to some restaurant (below is the map) or stay in the classroom.
5. What about the access on Saturday and Sunday?
Access on Saturday and Sunday during lecture hours is possible through the main entrance of Vazovova 5.
6. Student ID Card?
You will get ID cards at the beginning of the first session.
7. Do I need Slovak vignette?
Generally speaking: to use Slovak motorways you will need vignette (motorway sticker). The exception are motorways in cities Bratislava (and Banská Bystrica). However, because the Austrian motorway D6 is entering Slovakia not in Bratislava you will need for 7 kilometers of Slovak D2 from the border crossing in Kittsee to Bratislava to buy a vignette or to use local roads to cross border in Berg (see the map and instruction below).
The vignette costs 10€ and is valid for 10 days. There are also monthly - 14 € and a yearly - 50 € vignettes. From 1 January 2016 the vignette is electronic only. It means that you will not get the sticker, just the invoice (bill). It is possible to buy a vignette in particular petrol stations, in self-serve devices located at border crossings, but also on the internet: https://eznamka.sk/en (available also in English and German). Drivers without a valid vignette may be fined with €150 (it never happened to any student until now).
--------------
Public transport
Schedules in Bratislava are available on: http://imhd.sk/ba/schedules-timetables .
Nearest bus/tram stops to Vazovova 5 (walking from 3 to 12 minutes) are:
Stop: "Blumentál" - trams 2, 3, 5, 6, 8 and buses: 31, 39, 94, n55
Stop "Račianske mýto" – trams 3, 5, 6 and buses: 21, 25, 31, 39, 59, 61, 63, 74, trolleys: 64, 201, 204, 209, 210, n33, n55, n74.
Stop "Legionárska" – trams 2, 4, 8, 9 buses: n53
Arrival by plane
Bratislava Milan Rastislav Štefánik Airport (Bratislava's only airport) is situated 7 km from the centre of Bratislava. To Vazovova you may take a bus No 61 in the direction to the Main Railway Station departing each 20 minutes. The closest stop is Račianske Mýto. You will need to walk about 600 meters. The price for 60 minutes lasting ticket is 0,90 €. There is also possibility take a taxi. The price is higher.
Schwechat Airport (Flughafen Wien-Schwechat) is situated in Austria 45 km from Bratislava and has a regular bus connection to Bratislava bus station. The bus ticket price is less then 8€. Because of cross border restriction taxi trip from Vienna airport to Bratislava will be expensive. It is also possible to take a train, but since no direct connection it is not advisable.
Arrival by bus
The Main Bratislava bus station (Mlynské Nivy) is a little bit more than 1 km far from STU. There are more options to come to Vazovova. One of them is trolley bus No 210 or bus No 21 with stop at Račianske Mýto. STU is located app. 5 minutes walking through Mytna street from the stop Račianske mýto.
Arrival by train
Bratislava Main Train Station (Hlavná stanica) is situated app. 1,1 kilometre from STU. Vazovova street can be reached walking, which takes app. 12 minutes or 5 minutes by tram no 2. to stop Blumentál (this stop is on the corner with Vazovova street). Other option are buses no. 61, 74 and trolleybuses no. 201, 210 which take you to the stop Račianske mýto (it is the third stop). STU is located app. 5 minutes walking through Mytna street from the stop Račianske mýto. You can also take a taxi from the train station.
Bratislava-Petržalka railway station (ŽST Petržalka – the destination of some trains from Vienna) is app. 8 kms far away. Bus No 94 will take you to Blumentál (the stop is on the corner with Vazovova street).
Arrival by car
Bratislava is about 70-80 kms away from Vienna. The fastest way is to take the motorway A4, A6 (Austrian toll roads) crossing Slovakia's border on motorway in Kittsee. Slovak motorway from Kittsee to Petržalka is also toll road , so you will need also Slovak vignette (see above). Or you may take a local road No. 9 (B9). If you are driving from Vienna on A4 then take exit 19-Fischamend toward B9 - directions to Bratislava, Hainburg, Wolfsthal (entering Slovakia in Berg). This road is toll free also in Slovakia. It is some 15 kms shorter but 10 minutes longer. It is also possible to drive on A4 and A6 and to leave the motroway on the last crosing on A6 in Austria: again exit 19-Kitsee. In this case you will have to travel only 16kms on local roads and 5 minutes longer.
In cases of arriving to Bratislava from Kittsee or Berg and also in case of arriving from the west (from Czech republic by motorway D2) you will enter the center of Bratislava through the New bridge (on the left side is the castle on the right side the cathedral). The moment you get on the bridge you have a straight way of 3 kilometers to Vazovova - just go straight and after 3 kilometers you will need anyway to turn right because the straight way is an oneway road. In details: cross the bridge (1 km), continue on Staromestská (0.6 km), slight left to stay on Staromestská and to go under the crossing on Námestie 1. mája (0.8 km), continue on Námestie slobody (with the fountain on the left site, 0.5 km), turn right to Mýtna (behind the tall building of the National bank) 40 m and stay on Vazovova. It is possible to park for free anywhere in this area if there are free parking lots. There are also two paid parking places close to Vazovova. One is

directly on Vazovova but costs 2€ per hour and the other is on Skolska street (turn right on end of Vazovova and follow Radlinskeho. On the corner of second crossing is the parking place on Skolska) which costs 10€ per whole day wit possible multiple entrances. Parking houses are more far away and are more expensive (see the map on

http://www.parkovanieba.sk/ )
Arriving from north (from Slovakia) is more complicated. You may use the map or some route planner like maps.google.com.
Map of crossing Austrian Slovak border and duty free motorways:

Map of Bratislava city centre (smal square above):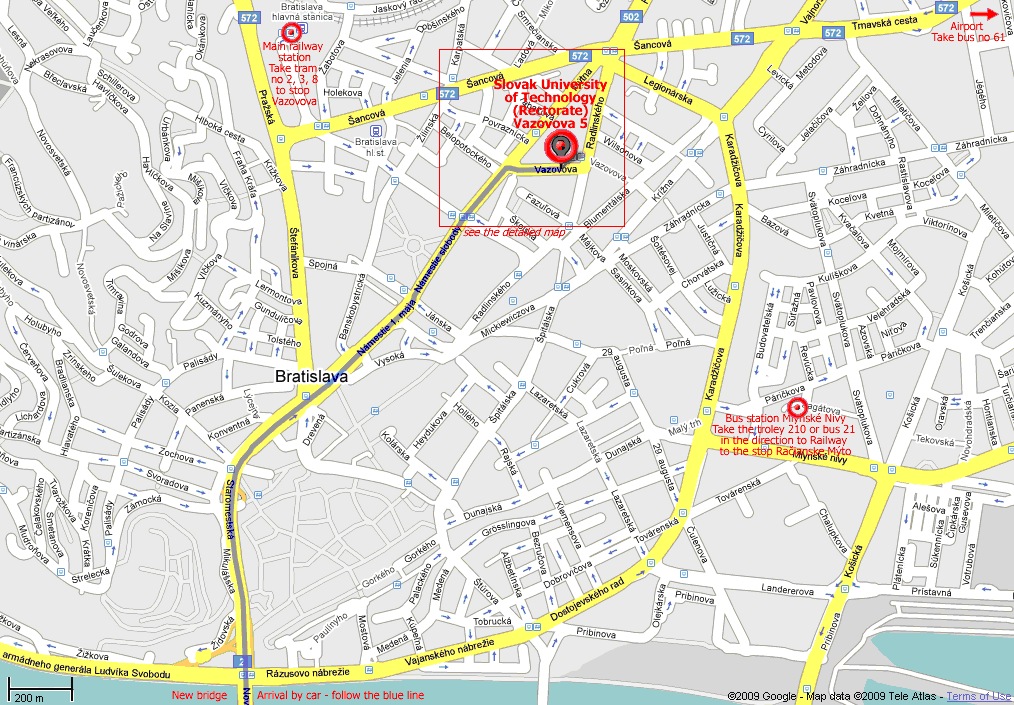 --------------------------
Arriving to Vazovova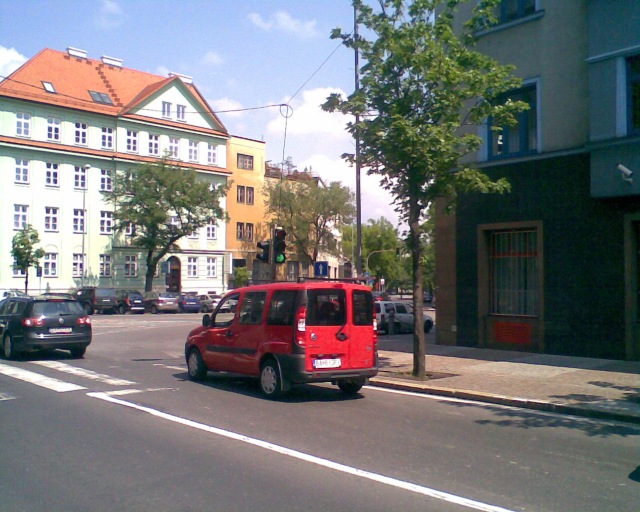 On the last crossing, behind the tall building of the National Bank (tall building you were just passing in the right side), you will have to turn right. At this moment you already can see the hotel Akademik - the yellow-green building in front of you.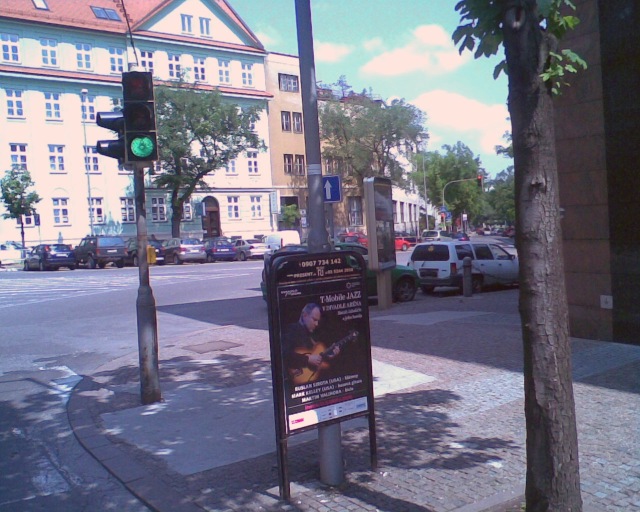 Now the Akdemik is just in front of you...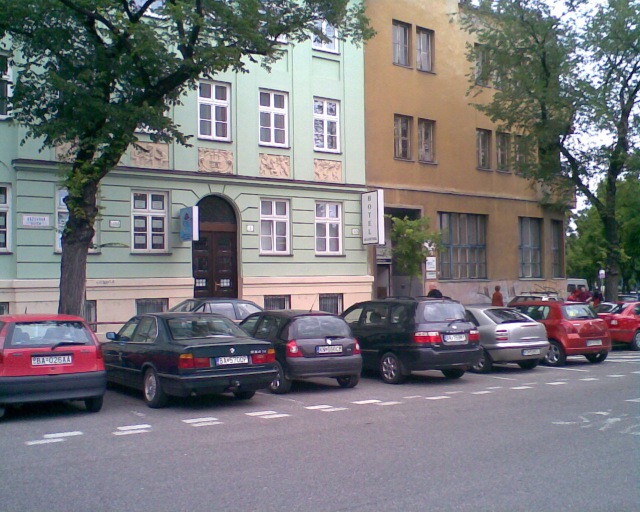 If You stay in Akademik, park somewhere here and check-in. If you arrive late and the wooden door is closed use the bell (do not knock). They have 24 service hours.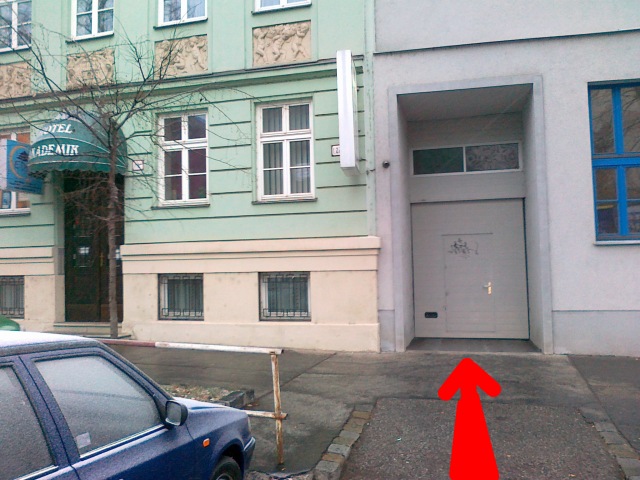 If you stay in Akademik you may park in the building of STU. Ask at the reception and they will open you this gate.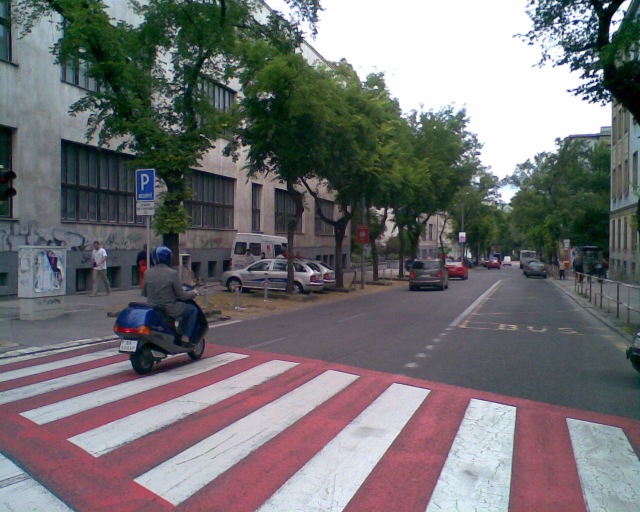 If not staying in the hotel continue on Vazovova.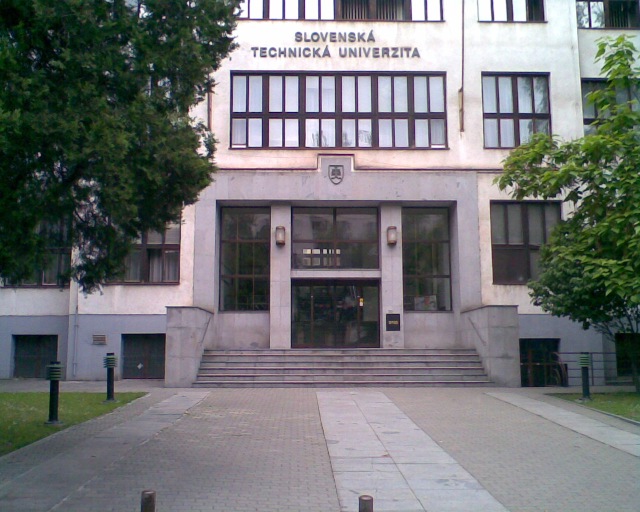 Go to the STU Vazovova 5. Main Entrance.
Detailed map with restarants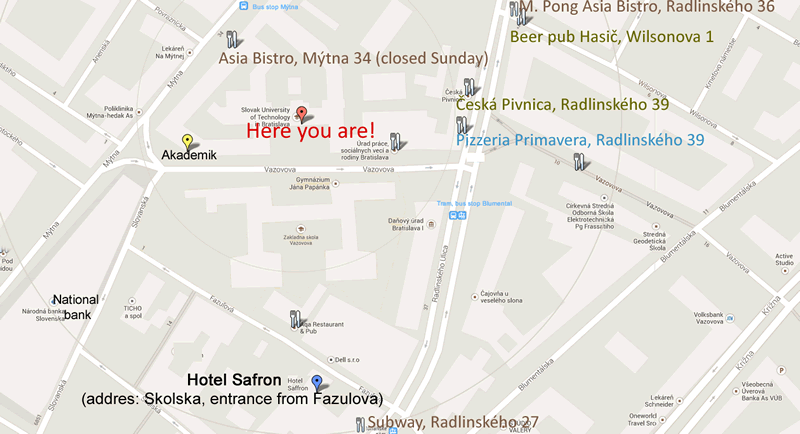 On the map are also restaurants around. Restaurants with daily menu from 4 to 6€ (in SLovak updated daily) are: (sorted as recommended)
General advises about restaurants in Bratislava and around Vazovova
Closest Restaurants, mostly with daily menu (not all of them are open during the weekend):
Galileo Restaurant, Vazovova 7 (menus are only during working days, at weekend open from 11:00)
Aqa Restaurant & Pub, Fazuľová 5 (menus are only during working days, at weekend open from 10:00)
Friends, Vazovova 9 (at weekend open from 11:00 to 22:00)
Pubs with restaurant
Czech Celar/Česká Pivnica, Radlinského 39 (more pub then a restaurant. They have a "beer garden" during the summer (open from 11:00 on Saturday and from 12:00 on Sunday)
Beer pub "u Hasiča", Wilsonova 1, 9:30, Sa

11:00 - 22:00. Sunday closed. Typical Slovak bear pub. Do not accept credit cards.
Pizza, Bistro/Imbis:
Not so close:
Pizza to order: or Primavera or Domino's pizza
Other places where students tends to go (for dinner):
Opening hours:
| | | | | |
| --- | --- | --- | --- | --- |
| | | Galileo | Aqa | Pizzeria Primavera |
| Pondelok | Monday | 10:00 - 23:00 | 9:00 - 22:00 | 9:00 - 23:00 |
| Utorok | Tuesday | 10:00 - 23:00 | 9:00 - 22:00 | 9:00 - 23:00 |
| Streda | Wednesday | 10:00 - 23:00 | 9:00 - 22:00 | 9:00 - 23:00 |
| Štvrtok | Thursday | 10:00 - 23:00 | 9:00 - 22:00 | 9:00 - 17:00 |
| Piatok | Friday | 10:00 - 01:00 | 9:00 - 22:00 | 9:00 - 24:00 |
| Sobota | Saturday | 11:00 - 01:00 | 10:00 - 22:00 | 11:00 - 23:00 |
| Nedeľa | Sunday | 11:00 - 22:00 | 10:00 - 22:00 | 11:00 - 23:00 |
Compilation of hotels and restaurants in Bratislava close to Vazovova 5: http://goo.gl/maps/JZjs6
Other
Bratislava official pages for visitors in English: http://visit.bratislava.sk/EN/
Events and tickets: http://www.ticketportal.sk/ (change language to English or Russian)
Sport: swiming pool at Hotel Nivy, Líščiie Nivy 3 (open daily to 22:00), pool in mall Central including the fitness club Golem (open daily to 22:00) , ice skating ..
Shopping: Tesco (closest on Kamenne namestie), malls: Central, Aupark, Eurovea, Avion
Driving Academy (pdf presentation)