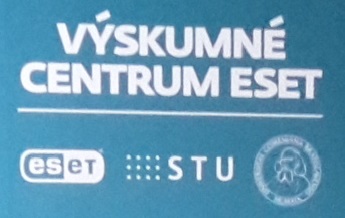 Faculty of Informatics and Information Technologies
Institute: Institute of Computer Engineering and Applied Informatics
Contact person: Doc. Ing. Ladislav Hudec, CSc.
Contact: +421 2 2102 2414
e-mail: ladislav.hudec@stuba.sk

Description:
The ESET Research Centre was created based on the Memorandum of Cooperation between ESET spol. s r.o., STU and UK. It was officially opened on 17 February 2015 by the President of the Slovak Republic.
The ESET Research Centre is effectively connecting the academic and business sphere offering following benefits to contractors:
solution of problems, where a independent solution would be out of reach or too costly and time consuming for the contracting party
deepening of research activity (practical experience, information resources, basic know-how, contacts, financing)
acquiring and retaining people with a scientific basics and practical orientation
increasing the volume of research resources and capacities (problem solution with interdisciplinary approach, basic research, evaluation of alternative solutions)
mutual knowledge development of students and contractors employees
developing a new socially beneficial field of study, building knowledge and preparing high-quality graduates.
The ESET Research Centre is equipped with PC workstations and specialized software, network data storage and Internet connectivity. Students of STU and FMFI can take optional courses in Reverse Engineering Applications and C++ Application Programming. The ESET Research Centre supports solving of diploma and dissertation theses in the field of information security.
Projects:
Network Security in the Field of Internet of Things. Young STU researchers support program. 2017. Researcher: Ing. Rudolf Grežo
Secured Car Communication through TCP/IP. Young STU researchers support program. 2016. Researcher: Ing. Ján Laštinec
Home Network Security. Thesis. FIIT STU. 2016. Researcher: Bc. Tomas Morvay. Awarded Certificate of achievement IT SPY 2016.
Detecting Penetrations into a Web Server. Thesis. FIIT STU. 2016. Researcher: Bc. Štefan Šmihla. Awarded Certificate of achievement IT SPY 2016.
Enhanced Web System Security by Using Biology-Inspired Methods. Thesis. FIIT STU. 2016. Researcher: Bc. Filip Šoltés. Awarded Certificate of achievement IT SPY 2016.
Security Extension of Automotive Communication Protocols using Ethernet/IP. Dissertation. FIIT STU. 2016. Researcher: Ing. Ján Laštinec
Cooperation:
ESET, spol. s r.o.
Faculty of Mathematics, Physics and Informatics of Comenius University
Photos: