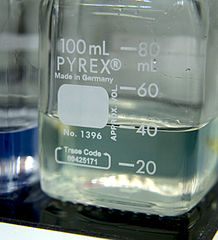 Faculty of materials science and technology in Trnava.
Institute/Department: Institute of safety environment and quality
Contact person: prof. Ing. Maroš Soldán, PhD.
Contact: +421 906 068 515
e-mail: maros.soldan@stuba.sk



Description:
Chemical laboratory is specialized in basic pretreatment of sample (analytical balance, muffle furnace, laboratory oven, digestorium) and in study of AOP processes. In laboratory, there are generator of ozone Sander S500, UV reactor, ultrasonic bath; and Kjehdahl apparatus.
Publications:
Galbičková, Blanka - Blinová, Lenka - Soldán, Maroš: Using of AOP process for phenol removal from wastewater. - registrovaný: Scopus. In: Advanced Materials Research. - ISSN 1022-6680(P). - ISSN 1662-8985(E). - Vol. 864-867 (2014), s. 1690-1693
Soldán, Maroš - Sirotiak, Maroš - Michalíková, Anna: Catalytic ozonization of phenol with the use of alternative catalysts. - registrovaný: Scopus. In: Advanced Materials Research. - Clausthal-Zellerfeld : Trans Tech Publications. - ISSN 1022-6680(P). - ISSN 1662-8985(E). - Vol. 781-784 : The 3rd International Conference on Chemical Engineering and Advanced Materials (CEAM 2013), 6 - 7 July 2013, Guangzhou, China. - , 2013, s. 207-210
Soldán, Maroš - Blinová, Lenka - Fiala, Jozef - Galbičková, Blanka - Ševčíková, Janka - Kobetičová, Hana: Adsorption of phenol on red mud. - registrovaný: Scopus. In: Advanced Materials Research. - ISSN 1022-6680(P). - ISSN 1662-8985(E). - Vol. 864-867 (2014), s. 1759-1762
Soldán, Maroš - Balog, Karol - Kobetičová, Hana: Evaluation of Catalytic Properties of Red Mud. - ITMS 2622022005. - registrovaný: Scopus. In: Advanced Materials Research. - Clausthal-Zellerfeld : Trans Tech Publications. - ISSN 1022-6680(P). - ISSN 1662-8985(E). - Vol. 749 : 2013 International Conference on Bio-Medical Materials and Engineering (ICBME 2013), 26 - 27 March 2013, Hong Kong, China. - , 2013, p. 99-105
Photos:

Fig. 1: Chemical laboratory