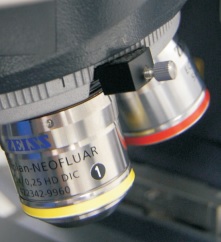 Faculty of Materials Science and Technology in Trnava
Department/Institute: Institute of Materials Science
Contact person: Assoc. Prof. Ľubomír Čaplovič, PhD.
Contact: +421 918 646 043
e-mail: lubomir.caplovic@stuba.sk
web page: http://www.mtf.stuba.sk/generate_page.php?page_id=10354
Description:
The Center is focused on analytical methods using the most advance knowledge from the interaction of electron and laser beams with the mass and the excellent detecting systems with high sensitivity, the modern mechanical processes and monitoring of electrical and non-electrical values. Methods are aimed at evaluation of specific properties mostly progressive metal and non-metal materials. Center contributes to the improvement of research infrastructure not only in Trnava region, but also contributes to the improvement of educational processes and popularization of science and technology among a general public. It consists of the following laboratories:
Laboratories of heat flows is scientific research laboratory for investigating of materials in terms of their thermal stability, lifetime in thermal exposure, safety of materials in high temperature loading in controlled atmosphere of oxygen, research in safety parameters of nanomaterials, composites, polymers, surface coating, etc. Laboratory is equipped with modern, internationally accepted devices which allow a simulation of technological processes during production, using and disposal materials, and also thermal loading at high heat flux (up to 100 kW.m-2), weight loss in controlled oxidizing atmosphere during long-term thermal loading, formation of corrosive products. These devices are unique, which are not available in Slovak Republic, and they contribute to the development of science background of safety materials and technology research. There are equipment as following:
Conical calorimeter for heat flux 0 – 100 kW.m-2;
Thermocamera FLUKE Ti55 for measuring ranges from 20 to 600 °C;
Safety thermal calorimetric analyzer FLEXY TSC A1717;
Explosion camera KV-150 M2.
Laboratory for thermo-physical measurement and calculation is inseparable part of scientific procedure of design, analysis and optimalization of technological process of production and treatment of progressive materials. There are also techniques of physical and computer modeling and numerical simulation of materials behavior implemented with experimental thermo-physical properties. In contrast to real experiments, computer simulation allows to study the phenomenon in more detail and to monitor significantly higher amount of physical values in correlation between them. On the basis of qualitative and quantitative evaluation of result, it is possible to predict the behavior of materials in various loading and boundary conditions, which simulate the production process, to define determining conditions influencing process of investigation and to identify the causes of undesirable effects. The apparatus does not allow the measuring of electrical properties of temperature stimulated depolarized fluxes from temperatures -160 °C at charging voltage up to 250 V, as well as the measuring of low electrical conductivity in DC electrical field. Maximum temperature with the guaranteed sensitivity of measuring of electrical current 10 to 16 A reaches to 400 °C by using measuring unit. This system represents two standards for characterization phenomenon of polarizing particularly in polymer structures and glasses, as well as transporting phenomenon in ceramics, glasses, semi-conductors and materials based on polymeric materials. Spectral analyzer with equipment is used for modular and impedance spectroscopy of materials and interfaces. It is able to measure wide spectrum of electrical and dielectric parameters of samples (conductivity, resistivity, impedance, complex permittivity) in various frequencies of electrical current. Laboratory is equipped by experimental devices and simulating software:
Simultaneous thermoanalyzer with mass spectrometer for temperatures 20 to 2000 °C, NETZSCH STA 409 CD/7/403/5/G,
High temperature dilatometer with working range -160 to 2000 °C, NETZSCH DIL 402 C/7/G+C75,
Laser flash analyzer for evaluation of thermal difuzivity working in the range 20 to 2000 °C, NETZSCH LFA 427/7/G,
Apparatus for measuring of electrical properties of linear heating-up and thermal delay TSDC System CONCEPT 90 with extension of Quatro Cryosystem,
Spectral analyzer with auxiliaries,
Software for simulation analysis of deformed processes in materials DEFORM,
Software for modeling and simulation of thermal and stress-strain states of materials in processes of heat treatment and welding SYSWELD,
Software for calculation of materials properties multicomponent alloys with thermodynamic databases JMatPro,
Databases of thermodynamic data – minerals and carbides, solutions and pure substances, steels/cast irons, Al alloys and light alloys, ceramic systems.
Laboratory of corrosive tests is equipped with high standard laboratory technique for evaluation of level of corrosive processes of metals and their degradations. Laboratory is focused particularly on science and research in order to protection of metal materials against corrosion and surface modification of metals. Instrumental allows designing a solution for improving a state of technical equipment, renovation processes, and projects of anticorrosive protection either of components or whole constructions. Modern unique devices allow measurements of electrochemical characteristics, which are used for immediate determination of corrosion of metals, tendency to atmospheric, pitting or intergranular corrosion and passivation ability in various working environments and many other corrosive properties of material and the working environment in terms of corrosion.
• Potentiostatic tester equipment PGU 10V,
• Mist chamber for testing of corrosion resistance CorrosionBox 400E,
• Equipment for corrosion test under strain CORTEST.
Laboratory of structural analysis is equipped by the most progressive microscopes (electron, light and laser). Scanning high-resolution electron microscope with detectors EDX, WDX and EBSD is capable to identify the chemical composition and crystallographic characteristics in micro volumes of analyzed materials. The Gentle Beam technique allows the observation of non-conductive specimens. Microscope is preferentially used for analysis of surface layers of metal and non-metal materials in real states (degradation, fractography), as well as on the material-graphic cuts.
Laser confocal microscope is capable to visualize into 3D image of surface layers and to quantify the roughness with resolution up to 20 nm. Two laser sources allow analyzing the surface of samples even in fluorescent light, which allows detecting the organic substances. Apparatus used for the analysis of degraded surface due to the abrasive, adhesive, cavitation, corrosion fatigue and wear, as well as to characterize the roughness after application of technological operations.
X-ray diffractometer, which is generally aimed preferentially on research of influence of external parameters and technological procedures for qualitative and quantitative characteristic of structural components with emphasis on the evaluation of internal and external deformations of the crystal lattice and thus the effect of redistribution of atoms, as well as due to thermal, thermal deformation or corrosion, tribological and physico-chemical effects of the environment. It is mainly determining the level of residual stresses in the depth profile of heat treated parts, structural refinement of new and modified phases, taking into account currently handled projects DMAT, determine the size of coherent scattering regions, texture analysis of deformed cast and systems. This will include high-temperature chamber for in situ analysis of material complexes. The diffractometer is equipped with excellent detection systems that increase the sensitivity, readability and speed measurement. X-ray diffractometer includes a database of diffraction and crystallographic data. The list of all analytical devices and equipments is listed below:
High resolution scanning electron microscope JEOL 7600F with analyzers EDX, WDX a EBSD,
Transmission Electron Microscope Philips (FEI) CM 300 with LaB6 and Digital camera GATAN SC 200 Orius,
Laser confocal microscope ZEISS LSM 700,
Multifunctional X-ray diffractometer PanAnalytical EMPYREAN for phase analysis in temperature interval 20 to 1100°C,
Spherical planetary micromill FRITSCH, model PULVERISETTE 7,
Ultrasonic cutter for disks Gatan,
Equipment for sample preparation for EBSD (Cross Section Polisher – CP) JEOL SM-09010_CP.
Laboratory of coating heat treatment and mechanical testing is designed to be able to develop appropriate experimental materials having a specific structure of the surface layers and also a defined structure in the core. These are primarily designed PVD coatings, as well as classical methods of cementation, nitrocarbonizing, nitriding and carbonitriding.
Part of laboratories is the device for testing the mechanical properties of metallic and non-metallic materials according to current standards (EN ISO 7500-1, DIN 51220, DIN 51221, EN 10002, DIN 51223, DIN 51227, ASTM E - 4, VDE 0113, ISO 5893) and other international standards. The maximum load force is 250 kN. The part of the apparatus is a chamber temperature up to 1000 °C. Instrumented pendulum impact hammer allows the measurement of the impact energy and deflection of the test specimen according to STN EN ISO 14556. The maximum impact energy of this device is 300 J. Automatic stroke adjustment allows the hammer to change the impact energy in the range from 150 to 300 J. To measure can be used instrumented and non-instrumented razor. High-speed scanning camera records the progress of deformation on the outer side of the specimen. Samples may be tested in the range from -70 up to +270 (+500) °C. Type designation for each device listed below.
Coating device Platit Pi80+DLC for coating deposition TiN, AlTiN, CrN, AlCrN, etc.
Multifunctional laboratory furnace LAC for nitriding, carbonizing and nitrocarburizing,
Tester device LABORTECH LabTest 5.250 Sp1,
Instrumented pendulum impact hammer CHK-300.
VEGA and APVV projects:
| | | |
| --- | --- | --- |
| | Projects | Type |
| 1 | Structure, properties and processes at surfaces and interfaces of materials: computer modeling. | VEGA |
| 2 | Quantification of radiation damage of composite materials for thermonuclear fusion reactors. | VEGA |
| 3 | Study of relaxation mechanisms in composites with of carbon-based special fillers. | VEGA |
| 4 | Study of structural and mechanical stability of a new super hard coating for the structural and tool materials. | VEGA |
| 5 | Research on metallurgical bonding and other technological processes of processing of magnesium alloy and other progressive and environmentally appropriate technologies. | VEGA |
| 6 | Effect of exposition conditions on the development of binary and ternary phases in complex metal aluminum-based alloys. | VEGA |
| 7 | Analysis of non-equilibrium thermo-metallurgical and stress-deformation processes in manufacturing technologies including rapid solidification of metallic materials. | VEGA |
| 8 | Study of phase equilibria in advanced materials using aimed experiments and computational thermodynamics. | VEGA |
| 9 | Development of lead-free solder for higher temperatures application and research material solderability of metallic and ceramic materials | VEGA |
| 10 | Efect of inhomogeneities on functional properties of hightemperature superconducting wires. | VEGA |
| 11 | Properties of leadfree solders and their liquidstate and solidstate interfacial reaction with substrates. | VEGA |
| 12 | Study of crystal structure and thermodynamic properties af aluminiumbase and zincbase complex metallic alloys. | APVV |
| 13 | Solidification and properties of novel peritectic TiAl-based alloys. | APVV |
Publication in the CC Journals from 2011 to 2013 years:
Balog, M. - Yu, P. - Qian, M. - Behúlová, Mária - Švec, P. - Čička, Roman: Nanoscaled Al-AlN composites consolidated by equal channel angular pressing (ECAP) of partially in situ nitrided Al powder. - registrovaný: Web of Science, Master Journal List, Scopus. In: Materials Science and Engineering A. Structural Materials. Properties, Microstructure and Processing. - ISSN 0921-5093. - Vol. 562 (2013), s. 190-195
Bednarcik, Jozef - Michallik, Stefan - Kolesár, Vladimír - Rütt, Uta - Franz, Hermann: In situ XRD studies of nanocrystallization of Fe-based metallic glass: a comparative study by reciprocal and direct space methods. - registrovaný: Web of Science, Master Journal List, Scopus. In: Physical Chemistry Chemical Physics. - ISSN 1463-9076. - Vol. 15, Iss. 22 (2013), s. 8470-8479
Benkovská, Jana - Stuchlíková, Ľubica - Búc, Dalibor - Čaplovič, Ľubomír: Electrical Characterization of 4H-SiC Schottky Diodes with RuWOx Schottky Contacts before and after Irradiation by Fast Electrons. - registrovaný: Web of Science, Master Journal List, Scopus. In: Physica Status Solidi (A)-Applications and Materials Science. - ISSN 1862-6300. - Vol. 209, Iss. 7 (2012), s. 1384-1389
Billik, P - Čaplovičová, M. - Turányi, T. - Čaplovič, Ľubomír - Horváth, B: Low-temperature mechanochemical-thermal synthesis of a-Al2O3 nanocrystals. - registrovaný: Web of Science, Master Journal List, Scopus. In: Materials Research Bulletin. - ISSN 0025-5408. - Vol. 46, Iss. 11 (2011), s. 2135-2140
Bošák, Ondrej - Kostka, Peter - Minárik, Stanislav - Trnovcová, Viera - Podolinčiaková, J. - Zavadil, Jiří: Influence of composition and preparation conditions on some physical properties of TeO2-Sb2O3-PbCl2 glasses. - P106/12/2384, APVV SK-CZ-195-11. - registrovaný: Web of Science, Master Journal List, Scopus. In: Journal of Non-Crystalline Solids. - ISSN 0022-3093. - Vol. 377, Spec. iss (2013), s. 74-78
Čaplovičová, M. - Billik, Peter - Čaplovič, Ľubomír - Brezová, Vlasta - Tturáni, T. - Plesch, Gustav - Fejdi, P: On the true morphology of highly photoactive anatase TiO(2) nanocrystals. - registrovaný: Web of Science, Master Journal List, Scopus. In: Applied catalysis B Environmental. - ISSN 0926-3373. - Vol. 117-118 (2012), s. 224-235
Černičková, Ivona - Priputen, Pavol - Liu, TianYing - Zemanová, A. - Illeková, Emília - Janičkovič, Dušan - Švec, P. - Kusý, Martin - Čaplovič, Ľubomír - Janovec, Jozef: Evolution of phases in Al-Pd-Co alloys. - registrovaný: Web of Science, Master Journal List, Scopus. - ITMS 26220120014, Vega 2/0111/11. In: Intermetallics. - ISSN 0966-9795. - Vol. 19, Iss. 10 (2011), s. 1586-1593
Duszová, Annamária - Halgaš, Radoslav - Bľanda, Marek - Hvizdoš, Pavol - Lofaj, František - Dusza, Ján - Morgiel, Jerzy: Nanoindentation of WC-Co hardmetals. - 2/0122/12, ITMS: 262200120019, ITMS: 26220120035, ITMS: 26220120056, APVV 0520-10, APVV 004206, LPP 0174-07. In: Journal of the European Ceramic Society. - ISSN 0955-2219. - Vol. 33, Iss. 12 (2013), s. 2227-2232
Gömöry, Fedor - Šouc, Ján, Ing - Pardo, Enric - Seiler, Eugen - Soloviov, Mykola - Frolek, Ľubomír - Skarba, Michal - Konopka, Pavol - Pekarčíková, Marcela - Janovec, Jozef: AC Loss in Pancake Coil Made From 12 mm Wide REBCO Tape. - registrovaný: Web of Science, Master Journal List, Scopus, IEEE. In: IEEE Transactions on Applied Superconductivity. - ISSN 1051-8223. - Vol. 23, Iss. 3 (2013), [6] p.
Halgaš, Radoslav - Dusza, Ján - Kaiferová, Jana - Kovácsová, Lucia - Markovská, Neda: Nanoindentation testing of human enamel and dentin. - registrovaný: Web of Science, Master Journal List. In: Ceramics - Silikáty. - ISSN 0862-5468. - Vol. 57, Iss. 2 (2013), s. 92-99
Hodúlová, Erika - Palcut, Marián - Lechovič, Emil - Šimeková, Beáta - Ulrich, Koloman: Kinetics of intermetallic phase formation at the interface of Sn-Ag-Cu-X (X = Bi, In) solders with Cu substrate. - registrovaný: Web of Science, Master Journal List, Scopus. In: Journal of Alloys and Compounds. - ISSN 0925-8388. - Vol. 509, Iss. 25 (2011), s. 7052-7059
Chaus, Alexander - Dománková, Mária: Precipitation of Secondary Carbides in M2 High-Speed Steel Modified with Titanium diboride. - Vega 1/0413/13. - registrovaný: Web of Science. In: Journal of Materials Engineering and Performance. - ISSN 1059-9495. - Vol. 22, Iss. 5 (2013), s. 1412-1420
Chaus, Alexander - Sojka, Jaroslav - Čaplovič, Ľubomír: Special features of the internal structure of globular graphite in high-strength cast iron. - registrovaný: Web of Science, Master Journal List, Scopus. In: Metal Science and Heat Treatment. - ISSN 0026-0673. - Vol. 55, Iss. 3-4 (2013), s. 175-180
Chriašteľová, Janka - Rízeková Trnková, Lýdia - Pocisková Dimová, Katarína - Ožvold, Milan: Reaction of Liquid Sn-Ag-Cu-Ce Solders with Solid Copper. - registrovaný: Web of Science, Master Journal List, Scopus. In: Journal of Electronic Materials. - ISSN 0361-5235. - Vol. 40, Iss. 9 (2011), s. 1956-1961
Jurči, P. - Hudáková, Mária: Diffusion Boronizing of H11 Hot Work Tool Steel. - registrovaný: Web of Science, Master Journal List, Scopus. In: Journal of Materials Engineering and Performance. - ISSN 1059-9495. - Vol. 20, Iss. 7 (2011), s. 1180-1187
Koleňák, Roman - Chachula, Michal - Šebo, Pavol - Koleňáková, Monika: Wettability and shear strength of active Sn2Ti solder on Al2O3 ceramics. - registrovaný: Web of Science, Master Journal List, Scopus. In: Soldering and Surface Mount Technology. - Bingley : Emerald Group Publishing. - ISSN 0954-0911. - Vol. 23, Iss. 4. - , 2011, s. 224-228
Kolesár, Vladimír - Priputen, Pavol - Bednarčík, J. - Černičková, Ivona - Svoboda, Michal - Drienovský, Marián - Janovec, Jozef: Evolution of phases in Al55Ni30Pd15 alloy at temperatures up to 600°C. - registrovaný: Master Journal List, Scopus. - ITMS 26220120014, 26220120048. In: Intermetallics. - ISSN 0966-9795. - Vol. 46 (2014), s. 141-146
Kubliha, Marián - Trnovcová, Viera - Labaš, Vladimír - Psota, Jozef - Pedlíková, Jitka - Podolinčiaková, J.: Electrical and dielectric properties of doped TeO2.PbCl2.PbF2 glasses, prepared in Au or Pt crucibles. - registrovaný: Web of Science, Master Journal List, Scopus. In: Journal of Optoelectronics and Advanced Materials. - ISSN 1454-4164. - Vol. 13, No. 11-12 (2011), s. 1493-1497
Kubliha, Marián - Kostka, Peter - Trnovcová, Viera - Zavadil, Jiří - Bednarčik, J - Labaš, Vladimír - Pedlíková, Jitka - Dippel, A.CH. - Liermann, H.P. - Psota, J.: Local atomic structure and electrical properties of Ge20Se80-xTex (x = 0, 5, 10 and 15) glasses doped with Ho. - registrovaný: Master Journal List, Scopus. In: Journal of Alloys and Compounds. - ISSN 0925-8388. - Vol. 586 (2014), s. 308-313
Kuduzović, A - Poletti, M.C. - Sommitsch, C. - Dománková, Mária - Mitsche, S. - Kienreich, R.: Investigations into the delayed fracture susceptibility of 34CrNiMo6 steel and the opportunities for its application in ultra-high-strength bolts and fasteners. In: Materials Science and Engineering A. Structural Materials. Properties, Microstructure and Processing. - ISSN 0921-5093. - Vol. 590 (2014), s. 66-73
Kusý, Martin - Behúlová, Mária - Grgač, Peter: Influence of the thermal history of a particle during atomization on the morphology of carbides in a hypereutectic iron based alloy. - abstrakt článku uverejnený v zborníku ISMANAM 2011, str. 89. - registrovaný: Web of Science, Master Journal List, Scopus. In: Journal of Alloys and Compounds. - ISSN 0925-8388. - Vol. 536, Supp. 1 (2012), s. 541-545
Labaš, Vladimír - Poulain, Marcel - Kubliha, Marián - Minárik, Stanislav - Chaguetmi, Salem - Psota, Jozef - Trnovcová, Viera: Electrical and dielectric properties of glass system NaPO3-KHSO4. - registrovaný: Web of Science, Master Journal List, Scopus. In: Journal of Non-Crystalline Solids. - ISSN 0022-3093. - Vol. 357, Iss. 11-13 (2011), s. 2371-2374
Labaš, Vladimír - Poulain, Marcel - Kubliha, Marián - Trnovcová, Viera - Goumeidane, F.: Electrical, dielectric and optical properties of Sb2O3-PbCl2-MoO3 glasses. - ECONET 21360NA, APVV-SK-CZ-195-11. - registrovaný: Web of Science, Master Journal List, Scopus. In: Journal of Non-Crystalline Solids. - ISSN 0022-3093. - Vol. 377, Spec. iss (2013), s. 66-69
Lapin, Juraj - Pelachová, Tatiana - Dománková, Mária: Creep behaviour of a new air-hardenable intermetallic Ti-46Al-8Ta alloy. - registrovaný: Web of Science, Master Journal List, Scopus. In: Intermetallics. - ISSN 0966-9795. - Vol. 19, Iss. 6 (2011), s. 814-819
Mikula, M. - Grančič, B. - Drienovský, Marián - Satrapinskyy, L - Roch, Tomáš - Hájovská, B. - Gregor, M. - Pleceník, Tomáš - Čička, Roman - Pleceník, A. - Kúš, Peter: Thermal stability and high-temperature oxidation behavior of Si-Cr-N coatings with high content of silicon. - APVV 0520-10, ITMS 26240220002, ITMS 26220220004. - registrovaný: Web of Science, Master Journal List, Scopus. In: Surface & Coatings Technology. - ISSN 0257-8972. - Vol. 232 (2013), s. 349-356
Palcut, Marián - Knibbe, Ruth - Wiik, Kjel - Grande, Tor: Cation inter-diffusion between LaMnO3 and LaCoO3 materials. - registrovaný: Web of Science, Master Journal List, Scopus. In: Solid State Ionics. - ISSN

0167-2738

0167-2738

. - Vol. 202 (2011), s. 6-13
Palcut, Marián - Priputen, Pavol - Kusý, Martin - Janovec, Jozef: Corrosion behaviour of Al-29at%Co alloy in aqueous NaCl. - ITMS: 26220120014, ITMS: 26220120048. - registrovaný: Web of Science, Master Journal List, Scopus. In: Corrosion Science. - ISSN 0010-938X. - Vol. 75 (2013), s. 461-466
Palcut, Marián - Mikkelsen, Lars - Neufeld, Kai - Chen, Ming - Knibbe, Ruth - Hendriksen, Peter V.: Efficient dual layer interconnect coating for high temperature electrochemical devices. - registrovaný: Web of Science, Master Journal List, Scopus. In: International Journal of Hydrogen Energy. - ISSN 0360-3199. - Vol. 37, Iss. 19 (2012), s. 14501-14510
Palcut, Marián - Mikkelsen, Lars - Neufeld, Kai - Chen, Ming - Knibbe, Ruth - Hendriksen, Peter V.: Improved oxidation resistance of ferritic steels with LSM coating for high temperature electrochemical applications. - registrovaný: Web of Science, Master Journal List, Scopus. In: International Journal of Hydrogen Energy. - ISSN 0360-3199. - Vol. 37, Iss. 9 (2012), s. 8087-8094
Pekarčíková, Marcela - Skarba, Michal - Konopka, Pavol - Janovec, Jozef - Solovyov, M. - Pardo, Enric - Gömöry, Fedor: Investigation of defects in functional layer of high temperature superconducting tapes. - ITMS 26220120014. In: Physica C-Superconductivity and its Applications. - ISSN 0921-4534. - Vol. 497 (2014), s. 24-29
Priputen, Pavol - Liu, TianYing - Černičková, Ivona - Janičkovič, Dušan - Kolesár, Vladimír - Janovec, Jozef: Experimental Study of Al-Co-Cu Phase Diagram in Temperature Range of 800-1050°C. - ITMS 26220120014, ITMS 26220120048, Vega 2/0111/11. - registrovaný: Web of Science, Master Journal List, Scopus. In: Journal of Phase Equilibria and Diffusion. - ISSN 1547-7037. - Vol. 34, Iss. 5 (2013), s. 425-429
Solovyov, M. - Pardo, Enric - Šouc, Ján, Ing - Gömöry, Fedor - Skarba, Michal - Konopka, Pavol - Pekarčíková, Marcela - Janovec, Jozef: Non-uniformity of coated conductor tapes. - registrovaný: Web of Science, Master Journal List, Scopus. In: Superconductor Science and Technology. - ISSN 0953-2048. - Vol. 26, Iss. 11 (2013), art.num. 115013
Trnovcová, Viera - Kubliha, Marián - Kokh, Alexander - Fedorov, P.P. - Zakalyukin, R.M.: Electrical properties of crystalline borates. - registrovaný: Web of Science, Master Journal List, Scopus. In: Russian Journal of Electrochemistry. - ISSN 1023-1935. - Vol. 47, Iss. 5 (2011), s. 531-536
Trnovcová, Viera - Fedorov, P.P. - Buchinskaya, Irina I. - Kubliha, Marián: Ionic Conductivity of Multicomponent Fluorite-Structured Fluorides. - registrovaný: Web of Science, Master Journal List, Scopus. In: Russian Journal of Electrochemistry. - ISSN 1023-1935. - Vol. 47, No. 6 (2011), s. 639-642
Trnovcová, Viera - Kubliha, Marián - Labaš, Vladimír - Kadlečíková, Magdaléna - Pedlíková, Jitka - Greguš, J. - Slabeycius, Juraj: Structure and Optical Properties of TeO(2)PbCl(2)PbF(2) Glasses Doped with Pr and Er, Prepared in Au or Pt Crucibles. - registrovaný: Web of Science, Master Journal List, Scopus. In: Journal of Optoelectronics and Advanced Materials. - ISSN 1454-4164. - Vol. 14, No. 1-2 (2012), s. 77-83
Vančo, Ľubomír - Kadlečíková, Magdaléna - Breza, Juraj - Čaplovič, Ľubomír - Gregor, M.: Examining the Ground Layer of St. Anthony from Padua 19th Century Oil Painting by Raman Spectroscopy, Scanning Electron Microscopy and X-ray Diffraction. - registrovaný: Web of Science, Master Journal List, Scopus. In: Applied Surface Science. - ISSN

0169-4332

0169-4332

. - Vol. 264 (2013), s. 692-698
Zaprazny, Z. - Korytár, Dušan - Ac, V - Konopka, Pavol - Bielecki, J.: Phase contrast imaging of lightweight objects using microfocus X-ray source and high resolution CCD camera. - registrovaný: Web of Science, Master Journal List, Scopus. In: Journal of Instrumentation. - ISSN 1748-0221. - Vol. 7, Iss.3 (2012), s. 1-7
Zavadil, Jiří - Kubliha, Marián - Kostka, Peter - Iovu, M. - Labaš, Vladimír - Ivanova, Z.G.: Investigation of electrical and optical properties of Ge-Ga-As-S glasses doped with rare-earth ions. - APVV SK-CZ-195-11. - registrovaný: Web of Science, Master Journal List, Scopus. In: Journal of Non-Crystalline Solids. - ISSN 0022-3093. - Vol. 377, Spec. iss (2013), s. 85-89
Béger, Miroslav - Jurči, Peter - Grgač, Peter - Mečiar, Svätopluk - Kusý, Martin - Horník, Jakub: CrxNy coatings prepared by magnetron sputtering method. - registrovaný: Web of Science, Master Journal List, Scopus. In: Kovové materiály. Metallic materials. - ISSN 0023-432X. - Vol. 51, Iss. 1 (2013), s. 1-10
Černičková, Ivona - Roščák, Lukáš - Ali, F. - Kusý, Martin - Scudino, S. - Čička, Roman - Drienovský, Marián - Priputen, Pavol - Janovec, Jozef: Influence of technological parameters on evolution of phases in Al-CMA composites prepared by powder metallurgy. - registrovaný: Web of Science, Master Journal List, Scopus. In: Kovové materiály. Metallic materials. - ISSN 0023-432X. - Vol. 50, Iss. 5 (2012), s. 327-334
Jurči, P. - Hudáková, Mária - Kusý, Martin: Nature of phases in boronized H11 hot work tool steel. - registrovaný: Web of Science, Master Journal List, Scopus. In: Kovové materiály. Metallic materials. - ISSN 0023-432X. - Vol. 50, Iss. 3 (2012), s. 177-184
Lapin, Juraj - Frkáňová, Katarína: Effect of processing routes on properties of plasma melted intermetallic Ti-Al-Ta ingots. - registrovaný: Web of Science, Master Journal List, Scopus. In: Kovové materiály. Metallic materials. - ISSN 0023-432X. - Vol. 49, Iss. 4 (2011), s. 243-251
Photos: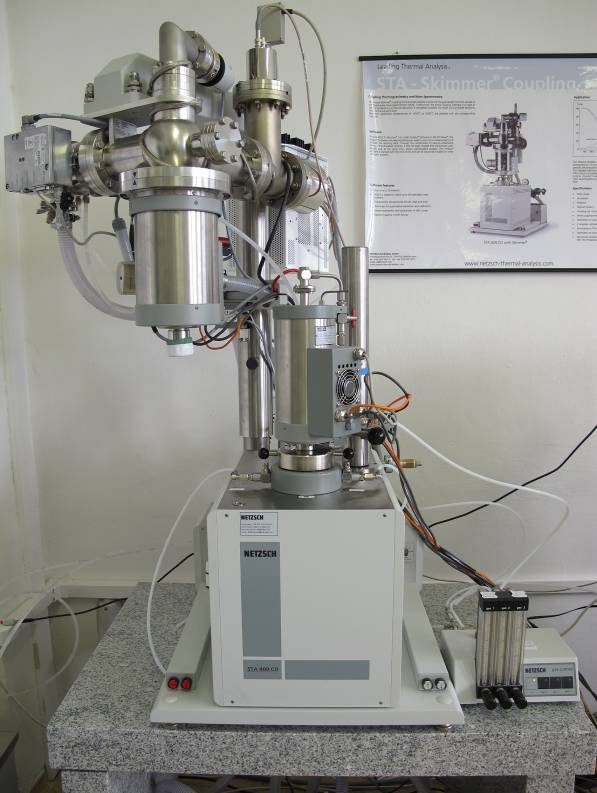 Fig. 1: Simultaneous thermoanalyzer with mass spectormeter Netzsch STA 409CD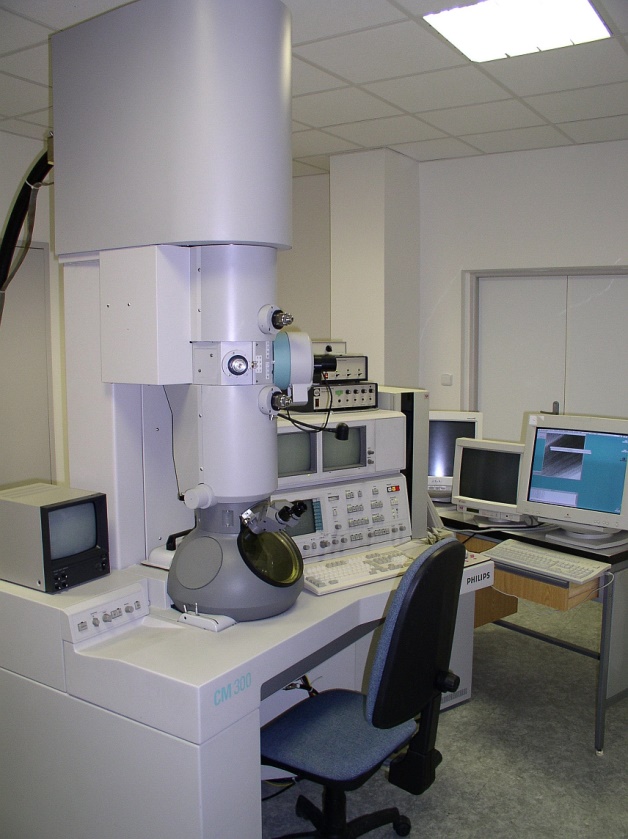 Fig. 2: Transmission Electron Microscope Philips (FEI) CM 300 with LaB6 and Digital camera GATAN SC 200 Orius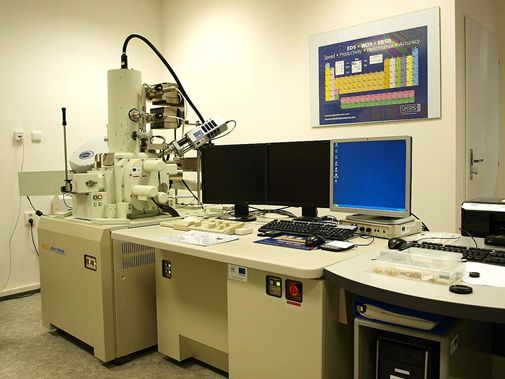 Fig. 3: High resolution scanning electron microscope JEOL 7600F with analyzers EDX, WDX a EBSD