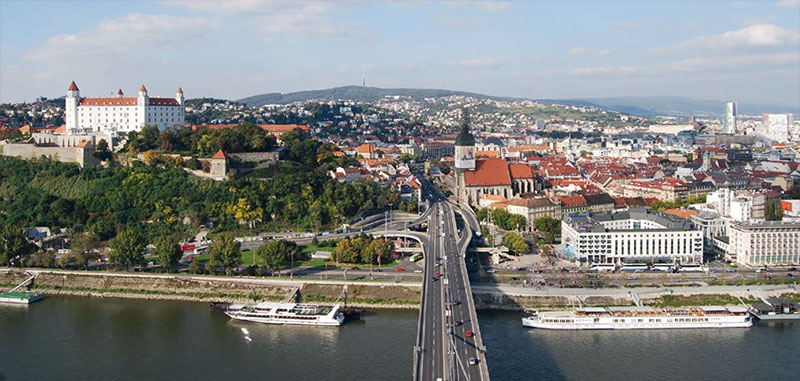 Bratislava is the capital city of the Slovak Republic and the most important tourist destination in Central Europe. It is situated in the south-western part of Slovakia on both banks of the Danube River. Bratislava is located near the Austrian, Hungarian and Czech borders. The nearest European metropolises are Vienna (60 km), Budapest (200 km) and Prague (330 km).
The City of Bratislava is the seat of the President, National Council, and Government of the Slovak Republic and embassies of the foreign countries. Its population is about 450,000 inhabitants. Being the largest Slovak city, it is not only the administrative, business and industrial, but also the cultural, scientific and research centre.
The city offers visitors many historic monuments, museums and cultural events, excellent traditional and international cuisine, and a pleasant atmosphere are fostered by the friendly and welcoming locals.
Big popular music acts play regular concerts in Bratislava, while the Slovak Philharmonic and the Opera and Ballet of the Slovak National Theatre regularly put on world-class performances.
Bratislava offers an excellent life for students, is being the seat of a number of universities. The largest and most significant technical university in Slovakia is the Slovak University of Technology in Bratislava.
In Bratislava there is a wide range of facilities for summer and winter sports. The most popular are football, cycling, inline skating, tennis, indoor sports, water sports, hiking, skiing and ice skating.
More information: http://visit.bratislava.sk/en