Entrusted with the function of rector
Responsible

for Strategic Projects and Development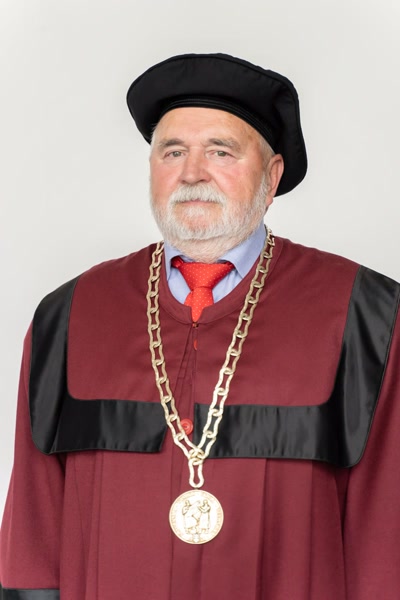 Oliver Moravčík is the Director of the Advanced Technologies Research Institute at the Cambo University Science Park at the Slovak University of Technology, Faculty of Materials Science and Technology in Trnava (STU MTF). He is a former Dean of the STU MTF (2006-2014) and a Vice-Dean. From 1994 to 1998, he served as Chair of the Academic Senate. As a university teacher, he has been with STU since 1976. The key pedagogical activity of Prof. Moravčík is lecturing in the field of Automation, Applied Informatics and Economics and Management. He successfully supervised nine Bachelor theses, 68 Master theses and four PhD theses. He has published more than 160 scientific and professional publications and articles at home and abroad in numerous books, journals and conference proceedings. Since 1992, he has been a member of the STU Scientific Board, and, since 1996 until now, also a member of the Scientific Boards of the STU faculties (Faculty of Materials Science and Technology, Faculty of Faculty of Informatics and Information Technologies), as well as the Faculty of Mechanical Engineering, University of Žilina and the Faculty of Mechanical Engineering, Technical University of Košice.
His activities in obtaining scientific and educational grants from the European Union's Structural Funds (up to now about EUR 90 million) have been particularly successful. They resulted in the implementation of CAMBO, the STU Science Park located in Trnava. The USP focuses on the materials research and analysis using ion technologies, as well as the automation and informatisation of technological processes.
He has been the principal investigator and researcher in several dozens of domestic and international research and applied research projects, including the PHARE Tempus I and II, FP7 and the NATO projects, e.g.:
PROMAN W – Projekt management system fϋr wissenschaftliche Projekte, a joint project of IFW Dresden, FZD Dresden-Rossendorf and STU MTF, coordinator of software design, 1996-99,

PTP I / II No. 1054 - Partnership for tomorrow - Association of Canadian Universities, University of Alberta / Edmonton, Quality Assurance System in Higher Education, Principal Investigator of the project 2002 - 2004

Diversity - Improving the Gender Diversity Management in Materials Research Institutions, FP7, Principal Investigator of the Slovak Participants, 2009-2011;

National project "Universities as engines of the of the knowledge society development ";

TEAMING, EU grant of H2020 Call, 2015.
The most important scientific invited lectures comprise: "Evaluationsverfahren in Softwaretechnik", "Modeling of Software Systems Using UML", Ilmenau Technical University, Biomedizinische Technik und Informatik Institute, Germany, 2005 and 2006; "UML in Software Design", Forschungszentrum Dresden Rossendorf, 2007; "LRKO Monitoring System", University of Zagreb, Faculty of Informatics, Croatia, 2007.
Personality Awards of Prof. Moravčík:
28/01/2013 - "Doctor honoris causa - Dr.h.c", awarded by the Scientific Council of the Kalashnikov State Technical University in Izhevsk, Russian Federation,

06/07/2013 - Professor Collegii honoris causa, granted by the Rector of the University of Kecskemet, Hungary

25/03/2013 - Grand Medal of St. Gorazd, awarded by the Minister of Education of the Slovak Republic

20/01/2013 - Commemorative Letter of the Tree of Knowledge, granted by the STU Rector

2010 – Leibniz Medal, awarded by the Leibniz Research Foundation, Federal Republic of Germany
---
Address:
Rektorát
Vazovova 5
812 43 Bratislava 1
Tel.:
+421 905 930 247
Fax:
+421 2 5249 9384
E-mail:
oliver.moravcik@stuba.sk