Lecture by Honorary Prof. Dr.h.c. Rolf Pfrengle, Dipl.-Finanzw. (Senckenberg Gesellschaft Fur Naturforschung, Germany) as a part of ViP College STU lecture series

14 July 2015
at 10 AM at MTF STU - Pavilon Z, Dean´s meeting room,Paulínska 16, Trnava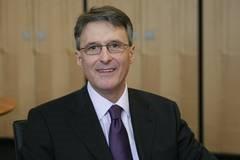 Since March 2015 Prof. Dr. h. c. Rolf Pfrengle is Administrative Director and member of the board of directors of the Senckenberg Gesellschaft für Naturforschung (SGN), headquartered in Frankfurt Main.
Under the roof of the Senckenberg Gesellschaft für Naturforschung (SGN), six research institutes and three natural history museums in Germany conduct research in bio- and geosciences. He studied public finance at (the Predecessor of) the German Federal University for Applied Public Administration. After his diploma he worked as government tax auditor responsible for large scale enterprises.
Subsequently, he joined the German Ministry for Research and Technology where he collaborated inter alia in the division responsible for non-university research institutes and thereafter in the international department in the field of scientific cooperation with Central and Eastern Europe. This was followed by pluri-annual stays as administrative director in several research institutes in Rome, Paris, Berlin and most recently at the Leibniz Institute for Solid State and Materials Research Dresden.
Prof. Pfrengle is member of the executive board of the German Physical Society that is one of the oldest and biggest physical societies of the world, executive board member of the Center for Science and Research Management Speyer and member of the board of directors of the National Association for Career Education for the Natural Sciences and Environment.
From 2012 until 2015 Prof. Pfrengle was the Representative for Dual Education and Training in the Leibniz Association. From April 2013 until the beginning of 2014 he was the Vice Spokesmen and Member of the Steering Committee EU of the Leibniz Association. He is Dr. honoris causa and Honorary Professor of STU Bratislava.