Second-generation bioplastics have been developed at the Slovak University of Technology in Bratislava.
Professor Pavel Alexy and his team of the STU Faculty of Chemical and Food Technology have innovated their invention and applied for another patent.
Bioplastics have become greener: used frying oil is utilised in the production process.
Bioplastics decompose in industrial compost, soil or even water.
The team collaborates with designers, manufacturers and biomedical scientists.
"There are two types of bioplastics: bio-based, made of renewable raw materials, and biodegradable. For nature, we prefer those that are both bio-based and simultaneously biodegradable, so that they do not sustain in nature as waste for decades. Our bioplastics meet both conditions", explains Professor Pavel Alexy of the STU Faculty of Chemical and Food Technology in Bratislava.
First-generation bioplastics consist of two components: polylactic acid made of starch, and polyhydroxybutyrate, a biomaterial produced by bacteria. What the bacteria need as a nutrient is just sugar, either that made of sugar cane, or just whey, i.e. the waste of no practical use, generated in the production of dairy products. Such bioplastics are protected as a utility model in the Slovak Republic; a patent application has been filed and the patent has raised interest in Europe and several Asian countries. The material bears the brand "nonoilen", which means "not made of oil".
A new patent application for second-generation bioplastics has been submitted to the Patent Office.
Video on youtube.com
"Second-generation bioplastics exhibit additional environmental bonuses. Used frying oil, hazardous waste produced in large quantities all over the world, is a source of polyhydroxybutyrate, a bio-plastic material which degrades in industrial compost conditions at the temperatures of 50 or more, as well as in domestic compost conditions at 20-30 ℃. Its degradation in common soil and in sea water is currently being investigated. This may be a significant contribution to reducing non-degradable plastic waste in the densely polluted seas", says Professor Alexy.
Having collaborated mainly with the Slovak Academy of Sciences during the development of the first-generation bioplastics, Professor Alexy currently intensively cooperates with the scientists of the Technical University of Brno and a commercial company, developing the technology for processing waste oils to polyhydroxybutyrate.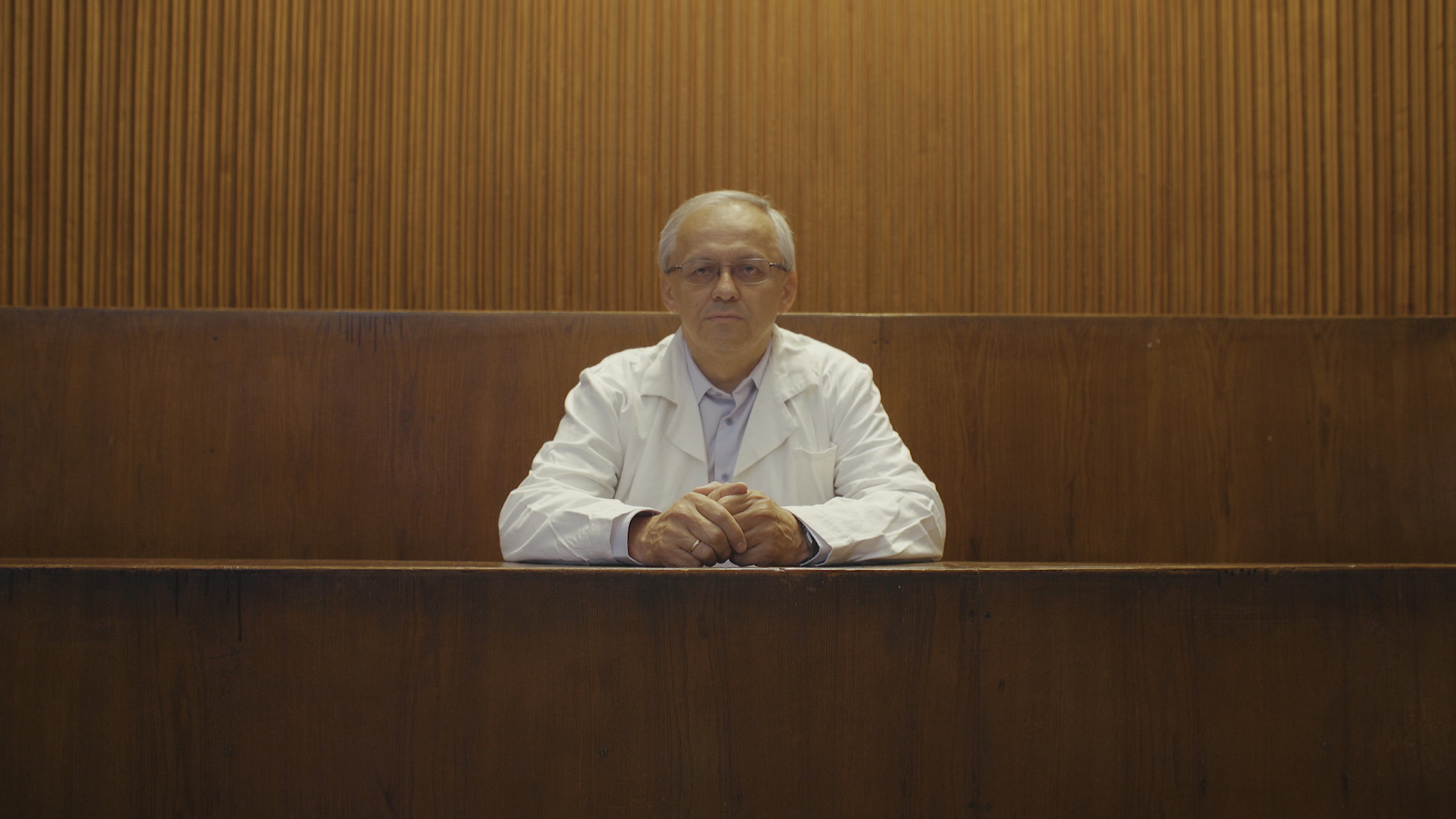 Pavel Alexy from STU.
The STU team is closely collaborating with some companies and universities on utilising the invention in practice. Massive commercial use of bio-based and degradable plastics is considered in cooperation with manufacturers of plastic containers, cutlery, packaging foils as well as mulch foils used in agriculture to conserve soil moisture and reduce weed growth. An original option is application in the field of design and fashion: the STU chemists with designers of the crafting plastics! studio have come up with an idea of using bioplastics for sunglasses frames; their design won the 2017 National Design Award in the category of Value-added Design. It was also nominated for the German Design Award and currently is exhibited at the Venice Biennale of Design and Architecture. The young designers managed to get support for the project through the Kickstarter.com. crowdfunding portal.
"Since my university studies, I had been interested in working with sustainable materials. After teaming up with Professor Alexy, we were challenged to experiment with bioplastics. Until then, bioplastics were considered as a biodegradable material associated with disposable products. Later, we decided to investigate the options of longer lifetime. Fashion industry is considered the second biggest polluter after oil industry, and therefore we turned to fashion accessories, starting with rain-coats and later focusing on the glasses frames. We are currently working on prototypes of furniture, particularly chairs and interior accessories, reusable coffee thermo-cups and toothbrushes, which are disposed of in high quantities, as well as fashion accessories such as bags or textile", says Vlasta Kubušová from crafting plastics! studio. Vlasta Kubušová studied design at the STU Faculty of Architecture and, as the first Slovak student, graduated from the prestigious Berlin Universität der Künste.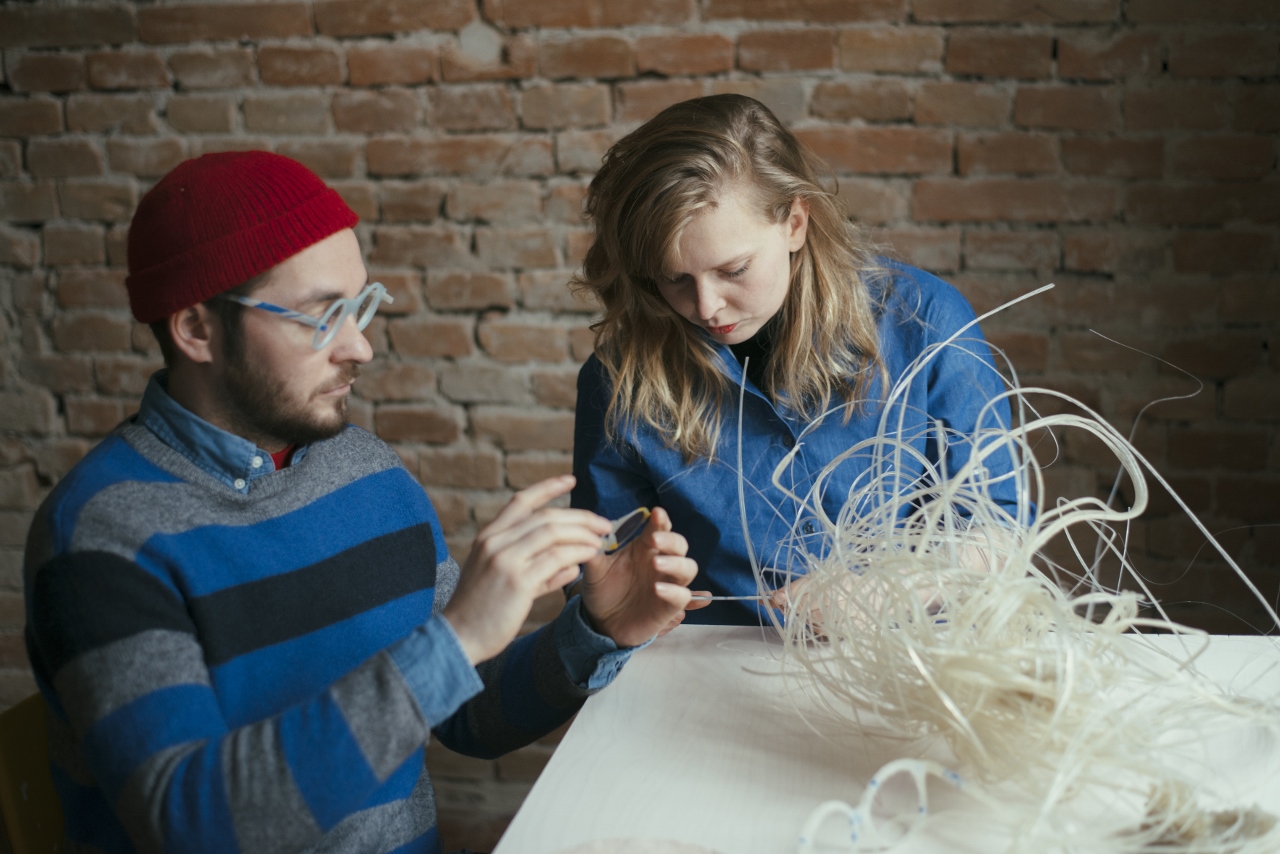 Miroslav Král and Vlasta Kubušová from crafting plastics! studio
Medical applications represent another option of utilising bioplastics. In this field, the STU cooperates with specialists of the Comenius University Faculty of Medicine in Bratislava and the top experts in implants development of the Technical University in Košice. Bioplastics may serve as temporary implants supporting complicated fractures. Research is also being carried out in the field of tissue engineering; in the laboratories, complete substitute organs are grown on a bio-substrate that will gradually decompose.
Video:
Crafting plastics and National Design Award 2017: https://youtu.be/3IH5YTsKk0g
Second-generation bioplastics at STU: https://youtu.be/Uj2gFYq4DSA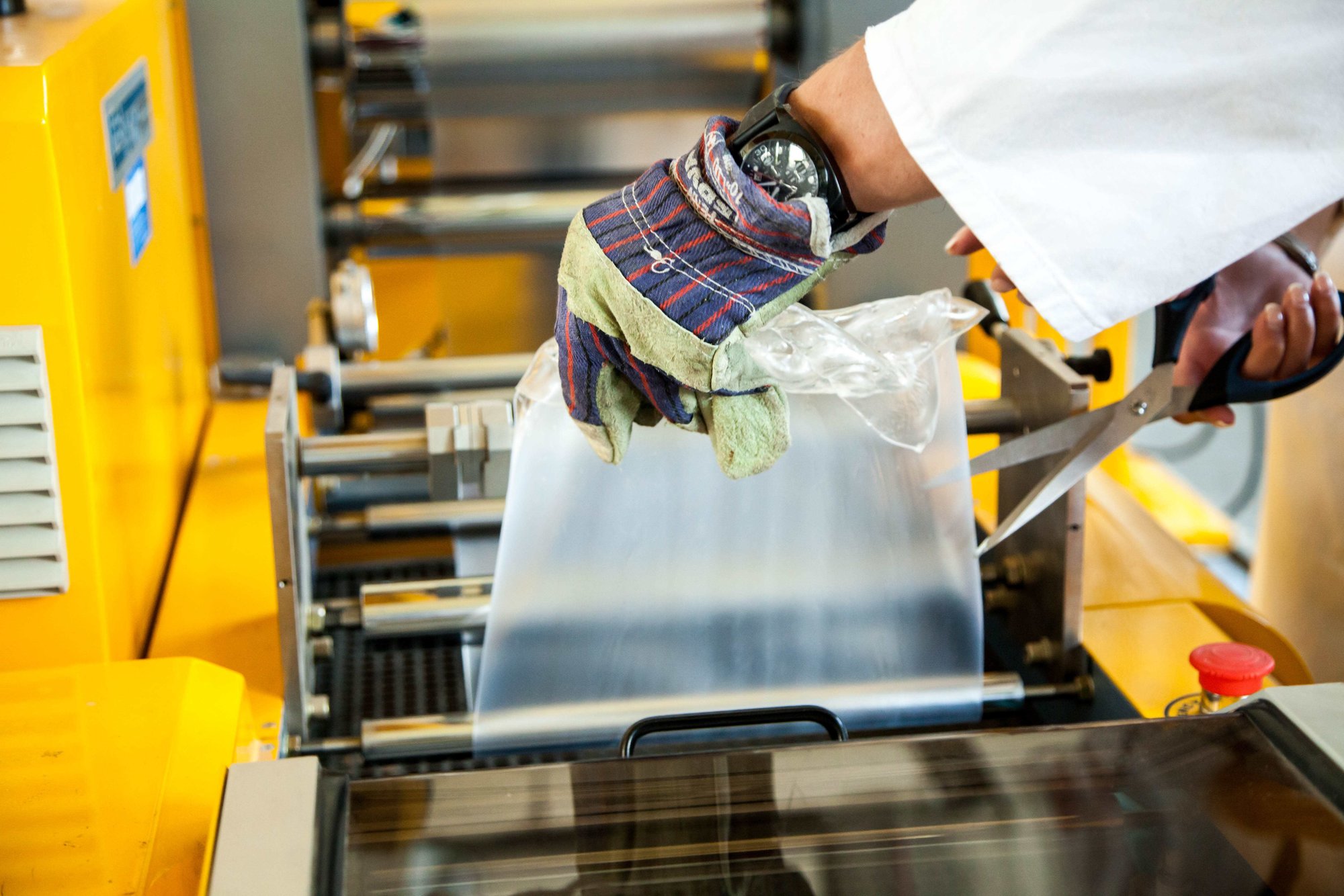 Laboratories for plastics at STU.