2017 marks the 30th anniversary of the Erasmus+ programme. The Erasmus programme has helped millions of young people and experts from the world of education to travel, study and gain experience and skills abroad.

The original Erasmus began in 1987 as an exchange programme for higher education students. From the very first year of its existence when there were 3 200 students from 11 European countries participating (Belgium, Denmark, France, Germany, Greece, Ireland, Italy, the Netherlands, Portugal, Spain and the United Kingdom) it has given them a taste of life and studying abroad. Over the past 30 years the programme has grown and developed into something much bigger and today it reaches far beyond Europe, enriching lives and opening minds.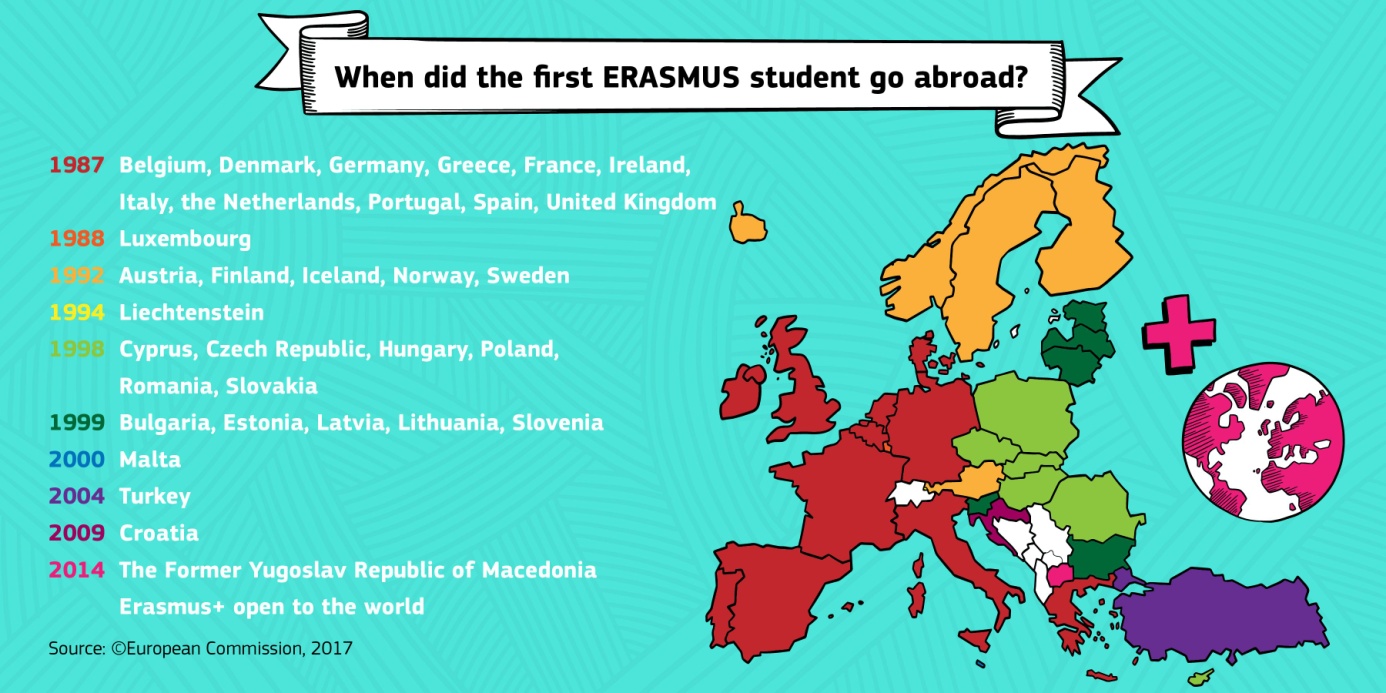 What began in 1987 as an exchange programme for higher education students has up to now broadened and enriched lives of more than 9 million direct participants, not to mention the indirect impact on many more. That's why a decision was taken that in 2014 several EU programmes would merge into one: Erasmus+.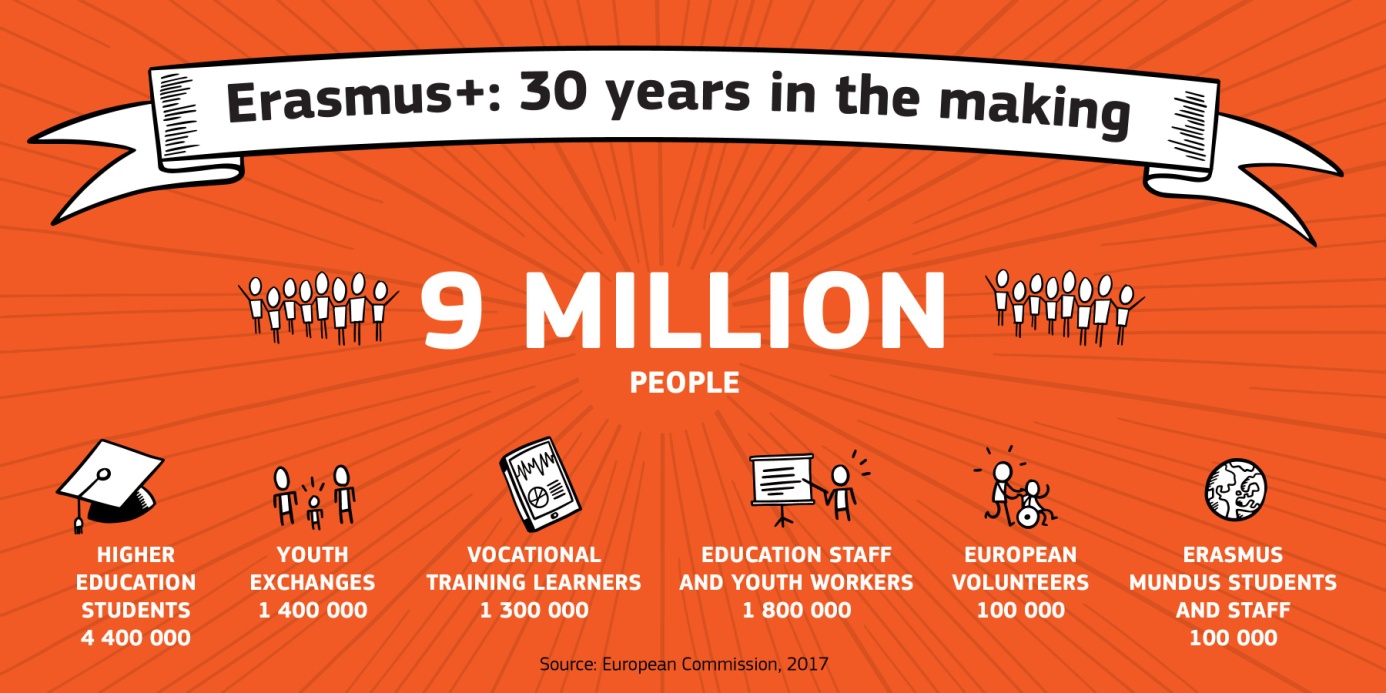 Erasmus+, a new EU programme supports activities in the field of education, training, youth and sport in the period 2014-2020. The main aim is to strengthen skills, employability and modernisation of education, training and youth work.

The structure of the Erasmus+ programme is built on three key actions supporting individual learning mobility, cooperation in the field of innovation and exchange of good practice and policy reforms.

Anyone involved in a learning process, teaching staff and youth workers can participate in the programme. Over the past 30 years the programme has given a chance to 9 million people to study, train, volunteer and gain experience abroad. Compared to the predecessor programmes, the main aim of Erasmus+ is more focussed on strengthening skills, employability and modernisation of education. Thanks to experience and opportunities to improve their knowledge and skills abroad, young people can find their path to the job market more easily. Students can take part in traineeships in enterprises and organisations abroad. Through improving their professional skills young people get ready for the job market and society. Erasmus+, which has replaced Erasmus, has helped young people find a job and increased their employability by strengthening skills, experience and confidence.

The programme has a strong international dimension, especially when it comes to higher education. The aim is not only to increase the quality of European higher education and reach the broader aims of the ET 2020 strategy and attractiveness of the EU as a destination for study, but also to promote understanding among people and contribute to sustainable development of higher education in partner countries and their socio-economic development, among others through mobility actions supporting exchanges of experts from and to partner countries. Higher education students and staff have the opportunity to improve their skills and broaden their chances of employment after finishing their studies.

Over the past three decades mobility has helped programme participants to receive education, skills and competences needed for an independent and fulfilling life. The European Commission, via the so-called Mobility Tool+, a web-based electronic tool for cooperation, management and reporting in Erasmus+ mobility projects, has since 2014 regularly monitored and evaluated participant reports on Erasmus+ mobility. Thanks to the opportunity to spend some part of their university studies in another country, as many as 83% of higher education students participating in mobility confirmed that Erasmus not only showed them a new direction in life but also delivered a sense of European citizenship. Surveys prove that young people in Europe participating in mobility abroad gain skills needed not only in the current labour market but also in the future and their professional career perspectives improve significantly. Students returning from a traineeship abroad are twice more likely to find a job within one year after finishing their studies in comparison to students lacking this foreign experience. One in three trainees is offered a position at the company where they are trained. Surveys show clearly that students appreciate Erasmus opportunities strongly: up to 96% declare to have positive experience with the Erasmus programme.
Slovak University of Technology in Bratislava and its participation in the Erasmus+ programme

The Slovak University of Technology in Bratislava (STU) is a modern research- and education-oriented institution that got involved in the Erasmus programme from its very beginning. From 1998 to 2016 the university sent 2018 students abroad to mobility for studies, 209 students and graduates to do a practical placement or traineeship, 435 staff members to teach or get trained and it received 676 Erasmus+ students from other programme countries.
| | | | | |
| --- | --- | --- | --- | --- |
| Year | STU student mobility | STU staff mobility | STU Traineeship mobility | Incoming student mobility to STU |
| 1998/1999 | 3 | 1 | - | 3 |
| 1999/2000 | 26 | 12 | - | 3 |
| 2000/2001 | 61 | 12 | - | 2 |
| 2001/2002 | 67 | 14 | - | 4 |
| 2002/2003 | 76 | 12 | - | 3 |
| 2003/2004 | 68 | 19 | - | 15 |
| 2004/2005 | 85 | 28 | - | 25 |
| 2005/2006 | 91 | 38 | - | 24 |
| 2006/2007 | 95 | 34 | - | 17 |
| 2007/2008 | 93 | 43 | - | 30 |
| 2008/2009 | 104 | 30 | - | 30 |
| 2009/2010 | 135 | 35 | - | 42 |
| 2010/2011 | 123 | 24 | 15 | 45 |
| 2011/2012 | 161 | 26 | 15 | 54 |
| 2012/2013 | 175 | 27 | 17 | 76 |
| 2013/2014 | 210 | 24 | 20 | 90 |
| 2014/2015 | 228 | 26 | 77 | 100 |
| 2015/2016 | 215 | 30 | 65 | 113 |
| Total | 2018 | 435 | 209 | 676 |
In the framework of the 2017 Call the evaluation committee of the Erasmus+ programme for higher education has approved a new mobility project of STU in order to support "Mobility of students and staff of higher education institutions between Programme countries" in the following period.

Erasmus+ mobility offers students at STU a chance to go for a study stay and/or a traineeship and to recent graduates (within 1 year from graduation) a traineeship and to STU staff to go for a teaching or training period.

The aim of the learning mobility of individuals at STU is to support transnational mobility of students, graduates and staff seeking to increase and broaden their professional and expert skills, competences in a given field and promote multilateral cooperation among higher education institutions and enterprises.

Student and staff mobility, as one of the most effective tools of internationalisation, ranks among the main priorities of the STU's long-term development plan. This is reflected in a high number of inter-institutional agreements signed (at the faculty level) in the framework of the Erasmus+ programme – there are 341 agreements signed with 224 institutions in 25 European countries.

In 2016 the STU Department of International Relations together with colleagues at the faculties and the rectorate succeeded in receiving a grant for a two-year Erasmus+ project under the "Mobility of students and staff of higher education institutions between Programme and Partner countries (non-EU countries)", so-called International Credit Mobility action (ICM). The project promotes cooperation with HEIs from 6 Partner countries (China, Cuba, the Russian Federation, Sri Lanka, Kazakhstan and Montenegro). In the 2017 call the department submitted another ICM application in cooperation with the faculties envisaging mobility to 8 countries (Brazil, China, Canada, Cuba, Serbia, Sri Lanka, Ukraine and Vietnam). Selection results are expected to be published in June 2017.

The involvement of STU in Erasmus+ projects has positive impact on the modernisation of the university with regard to its internationalisation goals in the field of education and research. The Erasmus+ programme promotes the quality of education and research, helps to increase the visibility of the university and prepares students and staff for intercultural and globally and internationally oriented environment. In general, the participation in projects of this kind is successful and beneficial not only for the mobility participants but also for the university's visibility. That's why it is necessary to continue the involvement in Erasmus+ project activities and increase the number of mobilities.

The Slovak University of Technology in Bratislava marks the 30th anniversary of the Erasmus+ programme by organising an international event - International Erasmus+ Staff Week on 5 -9 June 2017. There will be 31 participants, staff of international relations offices from 14 European countries and 2 countries outside Europe. Programme of the event - link

Celebrate with us 30 years of Erasmus+ and share your story and experiences resulting from a project or mobility. If you think that your Erasmus+ story is interesting and can inspire others, don't hesitate and write to us – we want to hear from you! "Share your story".


Ivan Prelovský, Erasmus+ Institutional Coordinator
Renáta Mezeiová, Head of Department of International Relations

Source: https://ec.europa.eu
https://erasmusplus.sk