EIT Manufacturing, a new innovation community supported by European Union, has gathered more than 50 partners from industry, research and education to accelerate the sustainable and digital transformation of Europe's industry. This year, EIT Manufacturing opened a local hub in Slovakia under the lead of the Slovak University of Technology in Bratislava. "With Covid-19 pandemics, EIT Manufacturing's mission is more important than ever to facilitate the recovery, and in driving a sustainable and digital transformation of the industry to boost Europe's competitiveness", said Oliver Moravčík, Vice-rector for strategic projects and development.
Vice-rector prof. Moravčík adds that, with the possibility to establish and operate a local hub, the Slovak University of Technology in Bratislava confirms its role as a regional leader in supporting of innovation activities for SME ́s and large manufacturing companies in close collaboration with the research community.
Sustainable and Digital manufacturing transformation
EIT Manufacturing aims at boosting sustainable and digital innovation to transform Europe's industry and make it more competitive. As an EIT Manufacturing member, the Slovak University of Technology in Bratislava (STU) was offered the opportunity to establish the Slovakian Hub. The main mission of EIT Manufacturing Hub Slovakia is to create an ecosystem with local manufacturing innovators and the industry by integrating business, research and academia, and increase awareness of the opportunities proposed by EIT Manufacturing to accelerate industrial transformation. Similar hubs were created in Czech Republic, Greece, Estonia, Lithuania, Portugal.
Survey to identify the impact caused by the COVID-19 pandemic
As one of the first steps, the EIT Manufacturing Hub Slovakia is starting a dialogue with local authorities, local industry and business in order to identify the key manufacturing challenges to address in the region caused by the COVID-19 pandemic. The starting point is a survey focused on companies (fill in the online survey on this link: https://forms.gle/gBBCKZJDjevZSXSL7)
Slovakia activities will continue with virtual and physical events, workshops and other similar activities.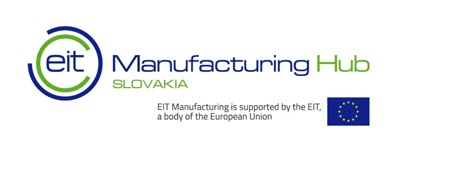 About EIT:
The European Institute of Technology and Innovation (EIT) is a body of the European Union and is an integral part of the Horizon 2020 program. EIT was established to support the innovators to change their best ideas to products, services and job positions for Europe. EIT consists of 8 Knowledge and Innovation Communities: EIT Manufacturing, EIT Climate-KIC, EIT Digital, EIT Food, EIT Health, EIT InnoEnergy, EIT Raw Materials, and EIT Urban Mobility.
EIT Manufacturing's main goal is to bring European stakeholders focused on manufacturing together in innovation ecosystems that add unique value to European products, processes and services and inspire the creation of globally competitive and sustainable manufacturing. EIT Manufacturing associates more than 50 organizations (universities, research institutes and business) including for example: Volkswagen, Volvo, Darmstadt University of Technology, the French Alternative Energies and Atomic Energy Commission (CEA), Siemens, Slovak University of Technology in Bratislava, Phillips, Procter & Gamble, and Whirlpool Europe.
Through the EIT Regional Innovation Scheme (RIS), EIT Manufacturing supports the moderate and modest innovation countries to boost their innovation capability. In addition to Slovakia, other EU EIT RIS countries are Bulgaria, Croatia, Cyprus, Czech Republic, Estonia, Greece, Hungary, Italy, Latvia, Lithuania, Malta, Poland, Portugal, Romania, Slovakia, Slovenia, and Spain. Non-member EU countries which are H2020 Associated countries and are considered EIT RIS countries: Albania, Armenia, Bosnia and Herzegovina, Faroe Islands, Georgia, Moldova, Montenegro, Republic of North Macedonia, Serbia, Turkey, Ukraine.
EIT Manufacturing — Making Innovation Happen!
-
Contact Details:
Mgr. Erika Hlavatá
Project Centre, Slovak University of Technology in Bratislava,
phone: +421 917 669 250,
Email: erika.hlavata@stuba.sk
More information at www.eitmanufacturing.eu
Press release: https://www.stuba.sk/buxus/docs/stu/informacie_o/diani_na_stu/EIT_Slovakia_Hub_EN.pdf