On 19 September 2016, Univ.Prof.Dipl.-Ing.Dr.mont. Peter Moser, Vice-Rector for Facility Management and International Relations and Dr. Alfred Maier, Chair of the Mining Engineering and Mineral Economics Department of Montanuniversität Leoben, Austria (RIC ESEE) visited the Slovak University of Technology in Bratislava in order to identify opportunities for cooperation between the two universities.
The foreign visitors were received by Prof.Redhammer, the STU Rector. Foreign guests presented the Montanuniversität Leoben, its status in Austria as well as its mission and activities, while focusing on the doctoral, bachelor and master studies in the field of montane sciences.
The initial meeting was followed by bilateral negotiations with representatives of the STU management, Vice-Rectors O. Moravčík and S. Biskupič, and M.Strémy of the University Science Park. They discussed the possibilities of cooperation in the field of research and innovative projects in international programs, as well as mobility challenges.
Dr. Maier introduced the KIC EIT Raw Materials Project as well as possibility of the STU participation in it. The meeting culminated by preliminary agreement to draft Memorandum of Understanding regarding the STU participation in KIC EIT, that will be signed by both Parties in the near future.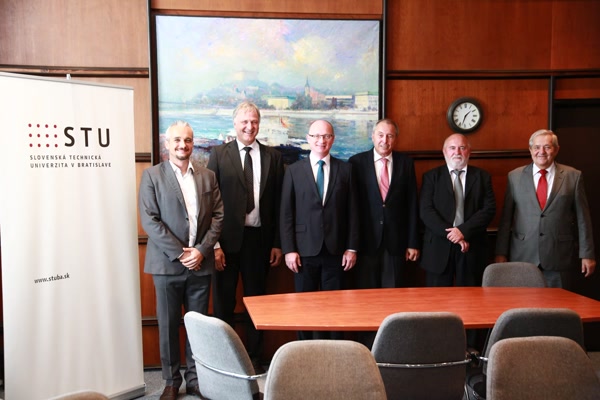 From left: Strémy, Moser, Redhammer, Maier, Moravčík, Biskupič