doc. Ing. Ľubica Vitková, PhD.
Vice-rector for Foreign Relations and Public Relations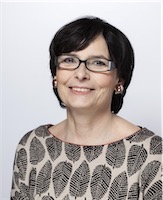 Ľubica Vitková has been with the Slovak University of Technology, Faculty of Architecture in Bratislava since 1992. In the years 2010 – 2018, she held the position of the Faculty Dean, and Faculty Vice-Dean from 2002 to 2010. In 2001 she became an associate professor in the Institute of the Urban Design and Planning (before, in the Department of UASand in the Institute of Urbanism).
After graduating from the Vazovova 6 Grammar School in Bratislava (1978), she completed her study at the STU Faculty of Architecture in the field of Urban Design and Planning (Ing. arch. 1983). After graduating, she worked as an independent designer and researcher in the Project Institute of Trade and Tourism (1983 - 1990) and as an independent designer - external worker at the Chief Architect Department in Bratislava (1990). In 1993, she gained her doctorate in the field of Urbanism, and in 2001, she habilitated in the same field. Since 2002, she has been is an authorized architect (architect for complex architectural and engineering services).
Her scientific and pedagogical activities are focused on urban design and urban economics. She is an author of several scientific publications included in the CC, WOS and SCOPUS databases; she is also an author of dozens of scientific publications and a university textbook, an author/co-author of a scientific monograph and chapters in the foreign and domestic monographs. She has participated in twenty research and educational projects, being the principle researcher in ten of them. Significant research projects she has led comprise the DANUrB project (Interreg 2017-2019), FUTURE (6 RP, Maria Curie Action 2004-2008). In the field of arts and craft, she has implemented a dozen of projects and plans, and elaborated a number of urban and architectural studies; her designs have been awarded in the public urban and architectural competitions.
Since 2004, she has been a co-guarantor of the Urbanism study programme in the Doctoral and Master degrees, and a co-guarantor of the Architecture and Urbanism study programme in the Bachelor degree study at the STU Faculty of Architecture. She has supervised nine successful PhD students and 51 Master graduates. She has participated in the projects aimed at the innovation of architecture and urban planning within the Erasmus IP scheme (ENHSA, CHRONOCITY, ECOPOLIS) as well as the ESF project. She is a coordinator of several Erasmus + bilateral agreements. She has been involved in the organisation of a wide range of domestic and international workshops, conferences, seminars, exhibitions, lectures delivered by foreign guests, field trips and summer schools.
Since 2010, she has been a member of the European Commission for Professional Qualifications, Group of Coordinators for the Recognition of Professional Qualifications, (sub-group Architecture); in 2010 – 2018, she was active in the Association of the European School of Architecture (EAAE). In the years 2004 – 2008, she represented STU in the Council of Representatives of the Association of European Schools of Planning (AESOP). She is a member of several Scientific Boards, a member of the Presidency of the Slovak Chamber of Architects (2009-2011, 2013-2019), and a member of the SKA Examination Board (since 2013). She has served as a member/president of numerous urban-architectural competitions, and a jury member in the competitions such as CEZAAR, Crystal Wing and Dušan Jurkovič Award.
---
Address:
Rektorát
Vazovova 5
812 43 Bratislava 1

Tel.:
+421 903 762 050

Fax:
+421 2 5249 9384
E-mail:
lubica.vitkova@stuba.sk