The EITM Doctoral School aims to attract and empower top talents from existing doctoral programs at the partner universities and institutions to further empower them through mobility and other learning opportunities to become leading manufacturing innovators and entrepreneurs. EIT Manufacturing PhDs will be one of the main assets of the EIT Manufacturing innovation communities, spreading innovation and creating new business in the manufacturing ecosystem. This activity will design and implement a program to transform selected excellent PhD students within partners' universities in game-changers.
What does the EIT Manufacturing Doctoral School programme offer for PhD students?
The EITM Doctoral training programme offers mobility, mentorship, networking, innovation & entrepreneurship, and business modules to PhD students. EITM PhD graduated will be able to generate start-ups or innovate within manufacturing companies and ecosystem, contribute to European competitiveness, environmental sustainability, and to the creation of new quality jobs.
Close cooperation with the industry is key for the development of the EITM PhD candidates from the perspective of bringing value and to the industry through innovation and/or new businesses.
The EITM Doctoral training programme ensures comprehensive participation of industry in the process of the EIT Manufacturing Doctoral School.
EITM Doctoral School programme structure: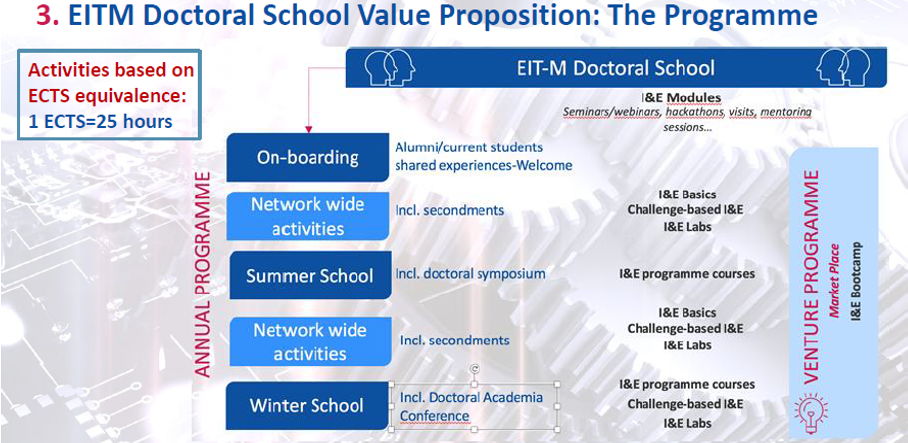 Who can apply to the Doctoral School?
Students who are registered at an EIT Manufacturing partner university and ALREADY enrolled in a PhD position, and who wish to add entrepreneurial, innovation and business skills.
Whose doctoral research relates to one of the topics in the field of the themes of the EIT Manufacturing:

Flexible Production Systems for Competitive Manufacturing

Low Environmental Footprint Systems & Circular Economy for Green Manufacturing

Digital & Collaborative Solutions for Innovative Manufacturing Ecosystem

Human-machine Co-working for Socially Sustainable Manufacturing

Who have two or more years left before completing their PhD dissertation.
Who are fluent in English (English level evaluated by TOEIC, TOEFL, or skype interviews).
To reflect on the economical differences of the regions in the EU a quota of the participants from the RIS countries, a reduced cost or free access to the program will be introduced.
What are the requirements for the EIT Label Certificate?
Take part in at least two annual events (summer/winter school, industrial or academic secondment, network-wide activities).
Attend at least one specific Innovation & Entrepreneurship course package.
Take part and complete at least one international secondment (4 months or 2*2months).
The project involves an international consortium composed of the EIT Manufacturing (IT), Czech Technical University in Prague (CZ), Arts et Metiers Institute of Technology (FR), University of Porto (FEUP) (PT), University of Tartu (EE), Grenoble Institute of Technology (INP) (FR), and the Slovak University of Technology in Bratislava (SK).
For more information follow the project website: EIT Manufacturing Doctoral School
Past events:
Winter School: EIT Manufacturing Winter School & https://eit.europa.eu/news-events/news/first-eit-manufacturing-winter-school
Contact person: Ing. Ivana Mrázová, PhD., project manager at STUBA: ivana.mrazova@stuba.sk