A ceremonial session of the STU Scientific Board associated with awarding Imre J. Rudas the honorary degree of Doctor Honoris Causa took place on Monday, 20 June 2016.
Prof. Imre J. Rudas accomplished his engineering study at the Banki Donat Polytechnic School in Budapest in 1971. After that, he graduated with Master's degree in Mathematics from the Eötvös Loránd University in Budapest. In 1987, he obtained the PhD. degree in the field of robotics at the Hungarian Academy of Sciences, where he also became Doctor of Science in 2004.
Prof. Rudas is still an active university professor.
In 2012, he founded the University Research and Innovation Centre including the Antal Bejczy Intelligent Robotics Centre at the University of Óbuda. Currently, he is Chair of the Administration Board of the University Research and Innovation Centre. Since 2014, he chairs the Central European Living Lab for Intelligent Robotics.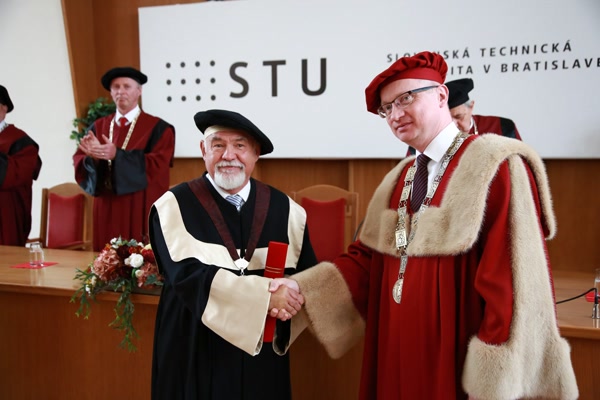 Translation: E. Mironovová