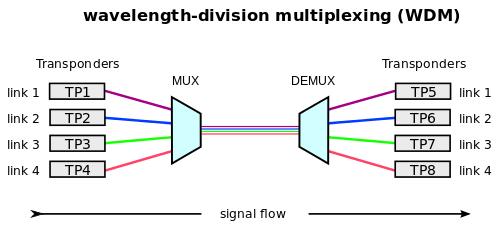 Faculty of Electricasl Engineering and Information Technology STU
Department/Institute: Institute of Telecommunications
Contact person: Assoc. Prof. Rastislav Róka, PhD.
Contact: +421 2 6827 9608, +421 2 6827 9604 – IT secretary
e-mail: rastislav.roka@stuba.sk
web page: http://www.ut.fei.stuba.sk/cms/en


Description:
The LOSS laboratory is focused on advanced WDM systems in access and transport optocommunication networks. It is utilized for analyzing and optimizing of DBA and DWA algorithms for increasing of effective utilization of transmission capacity in the optical transmission medium from viewpoint of various architectures of PON access networks. It is utilized for analyzing and specifying of effective cooperation of new VDSL, PLC/BPL and PON technologies in the FTTx architecture for provisioning of new broadband multimedia services and applications pre subscribers in the future access network.

Projects:
VEGA 1/0396/08 2008-2010 - Analysis and proposal of applications for advanced access networks in the NGN infrastructure utilizing fixed metallic transmission media for supporting multimedia services and a mutual interconnection various technologies and networks
VEGA 1/0106/11 2011-2013 - Analysis and proposal for advanced optical access networks in the NGN converged infrastructure utilizing fixed transmission media for supporting multimedia services
KEGA 039STU-4/2013 2013-2015 - Utilization of Web-based Training and Learning Systems at the Development of New Educational Programs in the Area of Optical Transmission Media
Publications:
RÓKA, R.: Fixed Transmission Media. In: Technology and Engineering Applications of Simulink, InTech, Rijeka ( Croatia ), May 2012, ISBN 978-953-51-0635-7
RÓKA, R., DLHÁŇ, S.: Modeling of Transmission Channels over the Low‑Voltage Power Distribution Network, In: Journal of Electrical Engineering – EČ, Vol. 56, No. 9-10, 2005, pp. 237-245, ISSN 1335-3632, [IF 2012: 0,546; SJR: 0,187]
RÓKA, R., URMINSKÝ, J.: Experimental Measurements for Verification of the Parametric Model for Reference Channels in the Real PLC Environment, In: Journal of Electrical Engineering – EČ, Vol. 59, No. 3, 2008, pp. 146-152, ISSN 1335-3632, [IF 2012: 0,546; SJR 2012: 0,187]
RÓKA, R.: The Design of a PLC Modem and its Implementation Using FPGA Circuits, In: Journal of Electrical Engineering – EČ, Vol. 60, No. 1, 2009, pp. 43-47, ISSN 1335-3632, [IF 2012: 0,546; SJR 2012: 0,187]
RÓKA, R.: Modeling of Environmental Influences at the Signal Transmission by means of the VDSL and PLC Technologies, In: International Journal of Communication Networks and Information Security – IJCNIS, Vol. 1, No. 1, 2009, pp. 6-13, ISSN 2073-607X, [SJR 2012: 0,156]
RÓKA, R., ČERTÍK, F.: Modeling of Environmental Influences at the Signal Transmission in the Optical Transmission Medium, In: International Journal of Communication Networks and Information Security – IJCNIS, Vol.4, No.3, December 2012, pp. 144-162, Print ISSN 2076-0930, Online ISSN 2073-607X, [SJR 2012: 0,156]
Cooperation:
Slovak Telekom, a.s., Bratislava, SK
ProFiber Networking, s.r.o., Trnava, SK
CIENA Limited, LONDON, UK