Rector's speech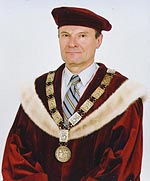 Dear friends,
ancient wisdom says, that knowledge is the light on our journey through our lifetime. Today, on the door step of development of economy based on knowledge, this wisdom applies double. When Slovakia became a member of European union lot of spheres of the life of our society acquired new dimension. New opportunities and challenges but also problems have emerged. And knowledge will be the most precious attribute of success not only within economy.
Slovak University of Technology in Bratislava tries to contribute to the deepening of knowledge. It is realised via acquisition of knowledge from science and consequently its dissemination via education, but also via supporting utilisation of knowledge in the direct co-operation with industry. In this way the university adheres to old heritage of its predecessors – academicians of Mining Academy in Banská Štiavnica, which was the first technical university of this type established in the heart of Europe. Fundamentals of classical technical fields of study, economic, natural sciences, agricultural and forestry fields of study as well as creative arts fields of study, which were founded on the territory of that university, became the starting point for formation of another new independent universities.
In the harmony with modern times, our university succeeded easily respond to the presence of foreign investments, development of automobile industry as well as to the invasion of up-to-date technologies. It is demonstrated with the increase of attractive study programs, growing interest of partners from industry and enterprises to co-operate as well as with continually more intensive international co-operation.
At present, the ambition of our university is active contribution to the development of knowledge economy with results of our activities in the field of scientific research and education and in this way participation on the fulfilment of basic aims of Lisbon strategy in Slovakia.
I believe that following pages will inspire your interest to know a little bit
more about our university
.
Vladimír Báleš
Rector